How to track, monitor and achieve Sales Targets for Insurance business
This financial year is around the corner and the forecasts for the year to come are all in already! It will be closing on a positive note with an impressive GDP contribution with regards to increased policy purchases in motor and health insurance.
So aren't you obviously near that period when you'll be looking at your performance in order to set new targets? If you want that ease in setting sales targets for your insurance business & employees … and you want to amplify your numbers by achieving more, see our booklet to see how an insurance crm can be your ultimate business tool!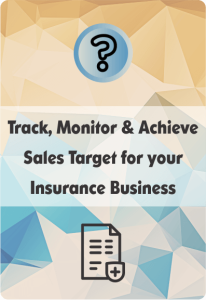 Resources for Insurance CRM:
1. Download CRM Buyer's Guide for Insurance Industry
2. Download Top Features of Insurance CRM Software
3. Download Checklist For Buying Insurance CRM Software
4. Download Infographic on Features & Functionalities of Insurance CRM
5. Sign up to view Reports in Insurance CRM Software
6. Hosting, security, compatibility, integration and customization details of CRM 
Do you want an obligation-free consultation on CRM?
Contact our CRM Solution Architect via phone or email – Click here
Chat with our CRM Solution Architect (Mon-Fri, 10 am-5 pm IST) – Click here
Click here for an Insurance demo or you can head to our Insurance CRM category for more resources.