Convert more leads with CRM for Financial Services Business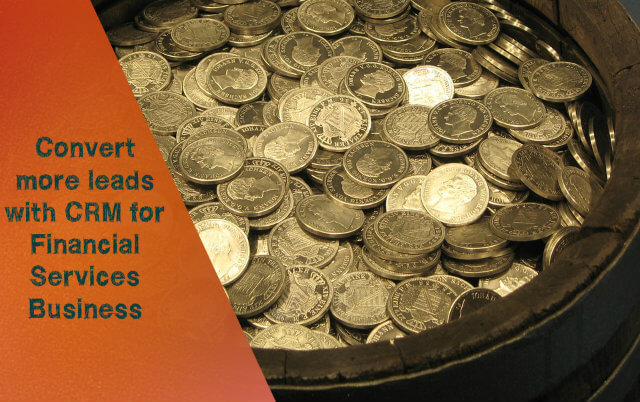 Lead generation, Financial Services Business & CRM:
Financial Services sector is in the most demanding phase since people are now highly aware about the significance of investments. While leads come from various sources, the substance of lead management lies in proper lead allocation, lead follow-up and lead prioritization.

The lead module of Financial Services CRM helps you categorizes leads according to their lead status & stages. As mentioned earlier this saves the extra efforts required.
Lead Module

This module lets you:
– Complete lead management.
– Add multiple leads.
– See the status of each lead follow-up and prioritize leads to close more deals quicker.
– Categorize and allocate leads as per your choice.
– Know the sales forecast of your business.

30 Things you can do in lead module:
1. You can add the basic information of the lead as per current form fields given.
2. You can add the point of origin of the lead & the product / service the lead has enquired for.
3. You can allot leads manually or automatically.
4. You can group leads and add tags.
5. You can layout high priority leads and add remarks.
6. You can directly integrate prospects from your website into the CRM & auto allocate leads to respective sales people / agents / brokers in a specified manner.
7. You can have specialized tags according to leads.
8. You can have customized stages and priorities.
9. You can allot leads to sales people product / service wise.
10.You can view leads allotted to sales people / agents / brokers product / service wise.
11. You can compile leads by pulling-in lead data from your excel sheet.
12. You can view lead data imported from the excel sheet.
13. You can do the following in the list lead module:
– Edit the lead status
– Edit the lead stage
– View the communication history of each lead
– View & edit the expected business
– View & edit the expected close date
– Share a lead with any other user
– Create Quotation
– Schedule Meetings
– Schedule Follow-up Calls
– Send / Schedule Emails
– Schedule SMS to leads
– Modify details of the lead
– Add contacts and remarks for a lead
– Add Remarks
– Attach Documents
– Deactivate or Reactivate the lead
– Delete the lead
– Convert the lead to Client

Conclusion:
Nurturing leads on time increases the lead conversion rates. The Financial Services CRM helps financial businesses to attain this objective.

To know more on Financial Services CRM, here's a demo for you!

Also find these modules – Financial Services CRM
– Sales Target Module
– Follow-Up Module (Calls, SMS, Mass Emails & Meetings Modules)
– Client Module
– User Module
– Contact Module
Resources & Sign Up: