Managing contacts for Real Estate Business in a CRM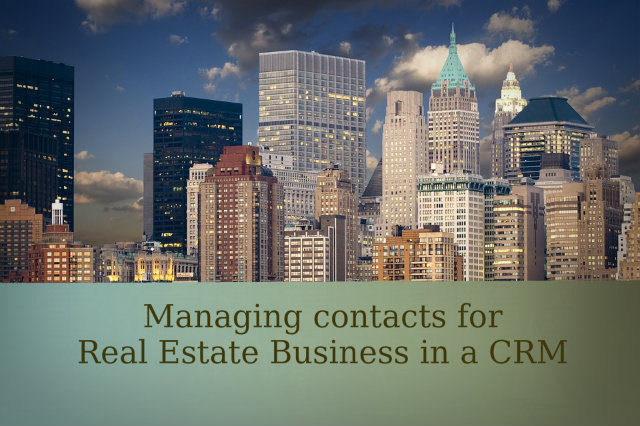 The Real Estate industry has almost the same set of basic challenges, consumer base and participants (Real Estate developers, marketing companies, brokers, agents, etc.)  Business success needs being acquainted with a lot of faces and entities. This makes for a pool of numerous contacts. In order to achieve business goals, you need to manage, store and leverage important contacts of leads, clients, vendors, agents, etc. for complete clarity. In case you have a big mix of contact data, it is suggested you:
– Get a hygiene check of all the contacts data
– Categorize your contacts as leads, clients, estate agents, etc.
– Set respective actions to be done for respective contacts, eg: Payment reminders to clients, etc.
– Keep the data easily accessible
Hence, if you need the above mentioned done, this booklet shows you he 180+ features of a Real Estate CRM that can help you.
Contact Module
How it helps you
– Store, modify and delete multiple contact details of clients, leads, vendors, etc.
– Prevent duplication of telephone, mobile numbers and email ids.
– You can categorize and tag contacts.
14 Things you can do in contact module:
1. Import your existing contacts.
2. Add contact details of leads, clients, vendors etc.
3. Give tags to categorize contacts of leads, clients, vendors, etc. Eg: Hot Lead, Very Important Client, etc.
4. Type in birth dates, anniversaries, remarks and other information about respective contacts.
5. View & edit contacts.
6. You can do the following in list contact module:
– Update Contact status
– Create Quotation
– Schedule Meetings
– Send / Schedule Emails
– Schedule Follow-up Calls
– Schedule SMS
– Modify details of the contact
– Reactivate or deactivate a contact
– Delete a contact
Conclusion:
If you need a CRM, you need for way more than just Contact management. Click here to know how it can help you manage sales, monitor site visits and bookings, etc.
For more informational posts visit our Real Estate CRM blog category.

Also find these modules – Real Estate CRM
– Sales Target Module
– Lead Module
– Follow-Up Module (Calls, SMS, Mass Emails & Meetings Modules)
– Client Module
– User Module