BPO CRM Featurelist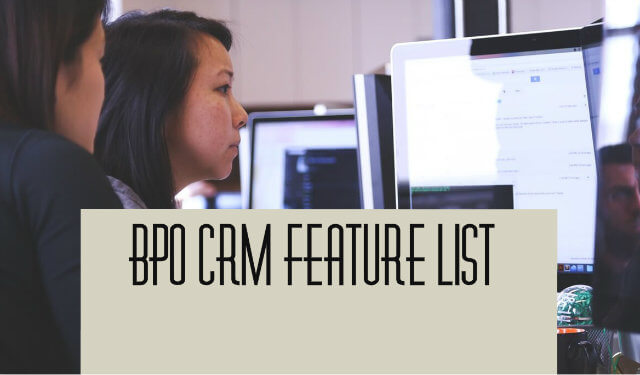 Scenario of the BPO industry & CRM for BPO business
BPO businesses extend their services across various industries on both a B2B as well as B2C level. Its closely knitted relation with the IT industry has exponentially increased its demand for high performance, meticulous management and at par sales & services. Businesses from countries like Australia, U.S.A, UK, Africa, Singapore, etc. outsource business processes to India considering a low cost. Now given the fact that there is an increased revenue inflow of foreign currency, the profit margins would relatively increase provided there is a prudent utilization of resources and manpower.
A BPO CRM contributes on this front and helps BPOs streamline sales processes like sales target management, follow-up automation & also provides a perfectly crafted space to sandbox client, lead and sales data in a secure manner. This would reflect in an increased client retention ratio and higher lead conversion rates. The current business scope for CRM in the BPO industry indicates a rising usage pattern for the next 3-7 years or at least till 2020.  
Know the 100+ things that you can do with a BPO CRM in this detailed feature list.
Modules of BPO CRM:
1. Sales target Module
This module helps you:
– Place, chase and trace sales targets for your BPO and sales people respectively.
– Monitor your financial ballooning.
– Scan & manage the sales progress of your BPO and sales teams.
2. Lead Management Module
This module lets you:
– Add multiple leads.
– See the condition of each lead follow-up & prioritize accordingly to sell more, faster.
– Club and assign leads as per your desire.
– Foresee your BPO's possible progress with sales forecasts.
3. Follow-up Modules: Call, Email & SMS Module
These modules let you:
– Exercise follow-up calls, emails & sms for lead communications.
– Schedule follow-up calls, emails & sms to leads.
– Set reminders for follow-ups, calls and messages.
4. Clients Module
This module lets you:
– You can add the contact information of clients.
– Allot, segregate and communicate seamlessly with your clients via calls, emails and sms.
5. Products / Services Module
This modules lets you:
– Add multiple products / services.
– Mention their details and specifications.
– Know the sales in real time.
6. Calendar Module
This module:
– Serves as your task-oriented calendar.
– Let's you mark prime dates relevant to your BPO, employees, leads and clients.
7. Contacts Module
– This module lets you:
– Accumulate, alter and trash contact details of clients.
– Save important dates regarding product / service purchases.
– Set payment reminders, etc.
8. Import Data Module
This module lets you:
– Import your existing data about your clients, contacts & products / services details, etc.
– Know who imported the data.
– Prevent data replication.
9. Announcements Module
This module lets you:
– Prepare and schedule announcements internally to the people within your organization and CRM system.
10. BPO Module
This module lets you:
– Add and handle your BPO and branch details; save and know all the basic contact information.
– Add, modify and remove contact details & designations of employees according to departments.
11. Tags Module
This module lets you:
– Create & modify tags
12. Tasks Module
This module lets you:
– Punch-in multiple sales activities with descriptions.
– See the completion update, priority and cut-off date of every task.
13. Pending Data Module
This module lets you:
– Identify all the incomplete data across your leads, clients, contacts, products / services, etc.
14. Newsletter Greeting Module
This module helps you:
– Shoot mass emails to clients and prospective customers.
– Relay email marketing campaigns.
15. Birthday & Anniversary Module
This module lets you:
– Wish Clients on special dates via emails & sms.
– Set alerts for the same.
16. Reports Module
This module lets you:
– Get highly intelligent updates into the finest details of your business sales.
17. User Module
This module lets you:
– Add new users in the BPO CRM system.
– Precisely feed-in roles & titles.
– Grant access to various modules of the BPO CRM.
– Categorize users according to departments, branches and designations.
Conclusion:
We hope our humble effort to provide BPO businesses with the maximum information for selecting a BPO crm has been helpful.
Eager to see these modules in action? Get registered for a demo of our BPO CRM.
Get more quick reads on BPO CRM here.
Resources & sign-up: