Factsheet on CRM for Manufacturing Business
The Indian manufacturing industry will continue to be an appealing centre for FDI (Foreign Direct Investment) this year. Being able to get high outputs for reasonable inputs will be a priority for the growth of manufacturing.
Getting the most out of your resources viz. manual as well as product resources is going to help provide an impetus. So, if you want to get optimum efficiency with rapid growth to run and expand your business, see our factsheet to know how a crm for manufacturing can be your ultimate tool!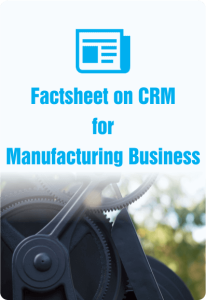 Resources on CRM for Manufacturing business:
1. Download CRM Software Buyer's Guide for Manufacturing Business
2. Download Top Features of CRM Software for Manufacturing Business
3. Sign up to view Reports in Manufacturing CRM Software
4. Hosting, security, compatibility, integration & customization details of Manufacturing CRM
5. Sign up for a Manufacturing Business CRM Software Demo
Do you want an obligation-free consultation on Manufacturing Business CRM Software?
Contact our CRM Solution Architect via phone or email – Click here
Chat with our CRM Solution Architect (Mon-Fri, 10 am-5 pm IST) – Click here
Pumped up to get your business growing faster? Head here for a Manufacturing CRM. 🙂
For resourceful information on Manufacturing CRM, head here.