Factsheet on Banking CRM
This year the Banking sector will be seeing a gentle but gradual rise in it's growth. As per some leading Business & Finance news bodies, the Indian Banking System will now be looked upon as a stabilizing industry. The adaptation of technology for operations can be credited for all these positive changes in the banking sector.
Did the "technology for operations" part hint something to you? It simply meant, "get your business automated or keep struggling". Not to be harsh but according to yet another Financial analytics giant, the ability to scale and deliver speedily and appropriately will hold the key to unraveling the ultimate vault to success!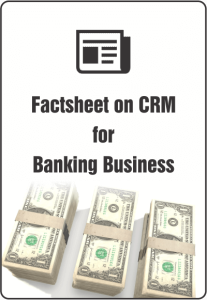 Resources on Banking CRM Software:
1. Download Banking CRM Buyer's Guide
2. Download Top 11 Features of Banking CRM
3. Sign up to view Reports in Banking CRM Software
4. Hosting, security, compatibility, integration and customization details of Banking CRM Software
5. Sign up for a Banking CRM Software Demo
Do you want an obligation-free consultation on Banking CRM?
Contact our CRM Solution Architect via phone or email – Click here
Chat with our CRM Solution Architect (Mon-Fri, 10 am-5 pm IST) – Click here
Looks like this new year calls for some transformation. So when will you get started? P.S. Click here for a Banking CRM that can help transform the face of your business.
Head here for more reads: Banking CRM