Factsheet on BPO CRM
The latest forecast for the BPO industry in India holds some really good hikes with the BPO sector poised at 9 plus billion! The key selling points that buyers
would consider are quality services, scalability, elite process and technology amalgamation.
Seeing these very crisply put pointers you've probably figured that you will need to have all these qualities to make a handsome cut. Point blank you'll need to use a crm. Wondering why a crm? See our fact sheet.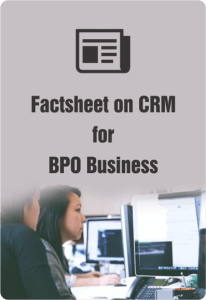 Resources on BPO CRM Software:
1. Download BPO CRM Software Buyer's Guide
2. Download Top Features for BPO CRM Software
3. Download Checklist for BPO CRM Software
4. Sign up to view Reports in BPO CRM
5. Hosting, security, compatibility, integration and customization details of BPO CRM
Do you want an obligation-free consultation on BPO CRM?
Contact our BPO CRM Solution Architect via phone or email – Click here
Chat with our BPO CRM Solution Architect (Mon-Fri, 10 am-5 pm IST) – Click here

Time is money, so don't waste anymore, get started with a crm for BPO business here!

George never missed his targets, neither shall you! Get a hold of your BPO CRM and prepare to claim your throne.