Summary of BPO CRM – Part 2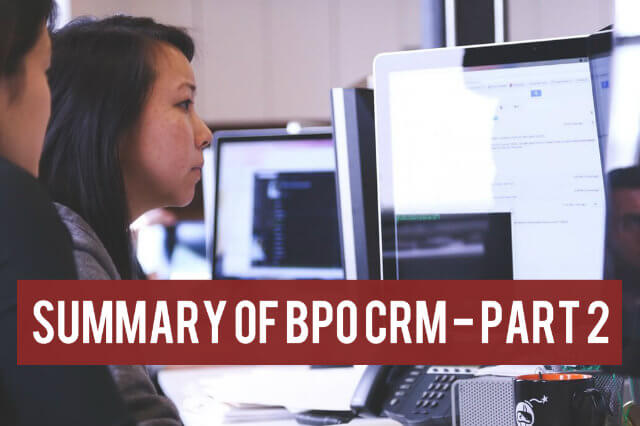 Purpose of this blog
To understand utility of BPO CRM in short and help businesses choose the correct CRM.
Why should you read this blog?.
If you want to
– Keep track on Sales Targets and take necessary actions on time.
– Track and Communicate with your leads smoothly.
– Schedule follow ups and keep your sales team updated.
– Get quick insights on client data
– Assess your Product/ Services performance
When should you read this blog?
– When you wish to boost your sales
– Increase sales team productivity
– Increase customer satisfaction
– Want to communicate with leads / clients perfectly
– Want to organize sales activities
BPO CRM Industry ( India, Australia, USA, UK, Hong Kong, Singapore)
Managing sales process and sales data in the competitive business world is a tedious task. Therefore countries around the globe like Australia, USA, UK, Hong Kong, Singapore, etc are opting for CRM systems to get an edge over each other. India being the hub for BPO sector, can add more value to it's performance by adopting CRM system.
To help BPO sector understand how CRM systems work and how they can support your sales teams we have combined 6 blog posts.
1. BPO business CRM Features and Functionalities Infographic
Understand the core of BPO CRM in just one look. Get to know about 7 important CRM modules.
2. Factsheet on CRM for BPO business
Get informative resources on BPO CRM and know why your business needs a CRM.
3. How to choose a right CRM for BPO business?
We have gathered the most precise information on factors to be considered while buying CRM. Understand the details of BPO CRM and make informed decisions.
4. Checklist for Buying BPO business CRM
Download a comprehensive checklist for buying BPO CRM.
5. 6 Key Features of CRM software for BPO business
– Give sales reps, managers, and execs everything they need to close leads
– Close more leads faster
– Gain real-time visibility into sales
– Centralize lead Information
– Everything you need to know about your prospects – all in one place
– Improve productivity
6. Key information on BPO business CRM
Get answer for your basic question what is so special about BPO CRM.
We hope this blogpost improved your understanding about CRM for BPO industry.
You can connect with our experts to know more on BPO CRM.
If you liked our post, read more on BPO CRM!
Resources: