BPO businesses can convert more Leads with CRM!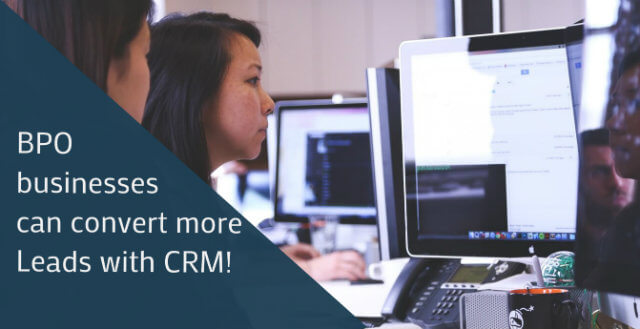 Leads generation, conversion in  BPO businesses & CRM:
Competition levels are soaring high in the BPO industry. Therefore addressing to every new enquiry is crucial. Managing these enquiries and turning them into leads is the top priority of BPO companies.
Prospects judge companies on the grounds of how fast & clearly the business responds.  The Lead module of BPO CRM facilitates to store & sort lead data from a single window. Follow ups are done on time in a hassle free manner.
Leads Module
This module lets you:
– Complete lead management.
– Add multiple leads.
– See the status of each lead follow-up and prioritize leads to close more deals quicker.
– Categorize and allocate leads as per your choice.
– Know the sales forecast of your business.
30 Things You Can Do In Leads Module:
1. You can feed-in the basic lead information according to the current form fields given.
2. You can add the origin of the lead & the product / service the lead has enquired for.
3. You can allot leads manually or automatically.
4. You can classify leads and add tags.
5. You can add remarks and make leads high priority.
6. You can directly extract leads from your website into the BPO CRM and auto assign leads to respective sales executives in a specific pattern.
7. You can have customized tags according to leads.
8. You can have customized stages and priorities.
9. You can allocate leads to sales executives product / service wise.
10. You can view leads allocated to sales people product / service wise.
11. You can import leads in the form of excel sheets.
12. You can get a visual update of all the lead data imported from the excel sheet.
13. You can do the following in the the List Leads module:
– Edit the lead status
– Edit the lead stage
– View the communication history of each lead
– View & edit the expected business
– View & edit the expected close date
– Share a lead with any other user
– Create Quotation
– Schedule Meetings
– Schedule Follow-up Calls
– Send / Schedule Emails
– Schedule SMS to leads
– Modify details of the lead
– Add contacts and remarks for a lead
– Add Remarks
– Attach Documents
– Deactivate or Reactivate the lead
– Delete the lead
– Convert the lead to Client
Conclusion:
Get a practical experience of BPO CRM with a demo here!
You can read more on CRM for the BPO industry here. 🙂
Also find these modules – BPO CRM
– Sales target Module 
– Follow – Up (Calls, SMS, Emails & Meetings Module)
– Clients Module
– Users Module
– Contacts Module
Resources on BPO CRM: