Managing contacts for BPO business in CRM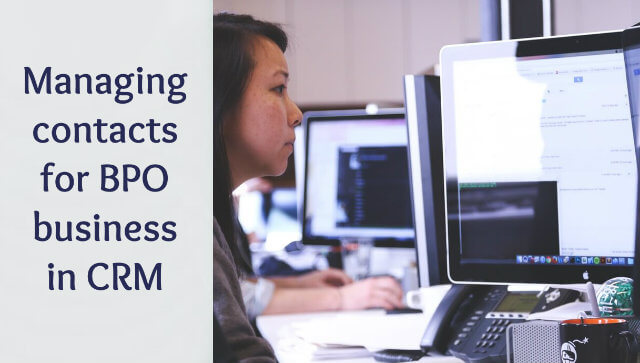 Contacts management, BPO businesses & CRM:
Activities of BPOs and contact centres call for a combat with a mix of multiple prospects from different time zones. Hence, organizing contacts becomes eminent. Sending important messages, sending timely payment reminders, scheduling follow ups are some of the daily functions BPO businesses conduct with their contacts.
The Contact Module of BPO CRM gives you the power to categorize, organize and manage your contacts which will in turn optimize your regular sales activities. Keeping track of the Product / Services bought by the contact, communication history of the and many other important details can be traced with a BPO CRM.
Contacts Module
This module lets you:
– Collect, alter and trash contact details of clients.
– Save important dates regarding product / service purchases.
– Set payment reminders, etc.
6 Things You Can Do In Contacts Module:
1. You can import your existing contacts.
2. You can feed-in several contact particulars of customers.
3. You can feed-in birth dates, anniversaries, remarks and other information about respective contacts.
4. You can add & view all the contacts with their necessary details.
5. You can group contacts and send sms & emails.
6. You can do the following in List Contacts:
– Update status and categorize
– View communication history
– Schedule meetings
– Send / Schedule emails
– Schedule follow-up calls & sms to leads
– Modify details
– Attach documents
– Reactivate or deactivate a contact
– Delete a contact
Conclusion:
Take a quick journey of BPO CRM here with a demo!
Also find these modules – BPO CRM
– Sales target Module
– Leads Module
– Follow – Up (Calls, SMS, Emails & Meetings Module)
– Clients Module
– User Module
Resources on BPO CRM: