IT CRM gives effective Sales Target Management!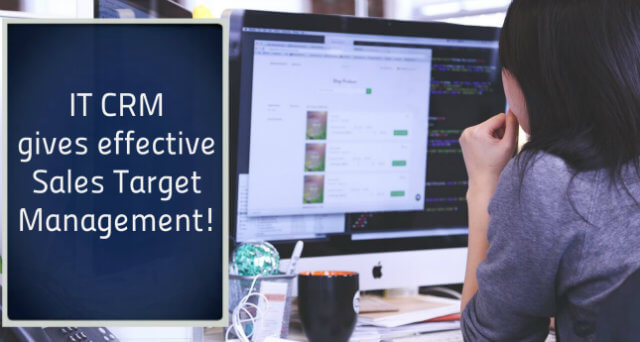 Sales Targets, IT businesses & CRM:
Want to know how your sales team can really achieve their 'stretched targets'? Incline them with the goals of your company, first by setting your company targets & second by allocating individual targets precisely. Simple, you first get the target setting right and here we mean for both your IT company and sales people individually. This helps monitor your sales people, drive your sales force towards target achievement & eventually nail your sales targets. Your sales force obstacle course gets faster once you've nulled the hurdles of ambiguity, loss of sales data and . While doing this on paper isn't always the smartest & effective way to maintain records & gain insights from number crunching.
An IT CRM has a Sales Target Module & much more that will help improve your business performance!

Sales Target Module
This module helps you:
– Set, trace and reach sales targets for your IT company and sales people respectively.
– Examine your revenue broadening.
– Monitor & manage the sales performance of your business and sales teams.
4 Things You Can Do In Sales Target Module:
1. You can set sales targets revenue-wise for any desired time frame by filling in the current form fields.
2. You can set sales person wise targets for any duration.
3. You can see the targets achieved & pending with the exact number of days left for period completion.
4. You can edit & remove a respective sales target in the
Conclusion:
Like smart ideas? Dive deeper into our IT CRM & rejoice!
You can also read more posts on IT CRM here.
Also find these modules – IT CRM
– Leads Module
– Follow – up Modules (Calls, SMS, Emails & Meetings Module)
– Clients Module
– Users Module
– Contacts Module
Resources & Sign Up: