Factsheet on IT CRM
The IT industry this year can expect a stunting growth this year making the struggle to perform and exist even more crucial. Surviving in this ever evolving IT industry can be highly tricky! You know your challenges best, so we'll just list some things that can help your business sales boom:
1.Excellent sales performance
2.Maximized resource utilization to generate more business
3.Highly efficient strategizing
4.Efficient employee base
5.Get a bigger picture of what's happening in your organisation.
Read our factsheet on IT CRM features & functionalities.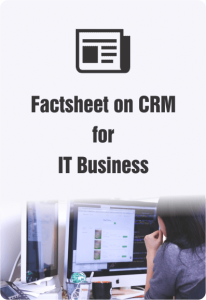 Resources on IT CRM Software:
1. Download Buyer's Guide for IT CRM 
2. Download Top IT CRM Features 
3. Sign up to view Reports in IT CRM Software
4. Customization details, hosting, security, compatibility, integration of IT CRM 
5. Sign up for an IT CRM Software Demo
Do you want an obligation-free consultation on CRM Software for IT industry?
Contact our CRM Solution Architect via phone or email – Click here
Chat with our CRM Solution Architect (Mon-Fri, 10 am-5 pm IST) – Click here
Using a crm will help you develop that win-win environment for your business! So head here if you're up for a demo, or you could head to our IT CRM category for more reads. 🙂