Factsheet On Healthcare CRM
It is no surprise that the Healthcare industry is one of the largest amongst all other industries. India having one of the largest populations in the world also has a large need for Healthcare. This is why the Healthcare industry in India largely contributes to the GDP.
The new trend for the best of the healthcare industry this year will be the exposure to the international healthcare services. Endeavours like Medical Tourism and outsourcing by countries like the USA & UK will be new to the Indian Healthcare Industry.
The constant benefiting factors for the healthcare businesses are:
1. Massive patient pool
2. Improved awareness for healthcare
3. Increasing old population
All you'll need is some path breaking service, efficient employees and impressive lead conversions. Sounds unrealistic? These can be a set of realistic achievements with a healthcare crm. Want to know how? See our factsheet.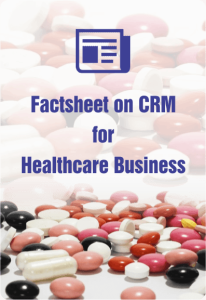 Resources on Healthcare CRM solutions:
1. Download Healthcare CRM Buyer's Guide
2. Download Top Features of Healthcare CRM Software
3. Download Checklist For Buying Healthcare CRM Software
4. Download Factsheet on Healthcare CRM
5. Download Booklet on Sales Target Management using Healthcare CRM
6. Sign up to view Reports in Healthcare CRM
7. Hosting, security, compatibility, integration and customization details of Healthcare CRM
8. Sign up for a Healthcare CRM Software Demo
Do you want an obligation-free consultation on Healthcare CRM?
Contact our CRM Solution Architect via phone or email – Click here
Chat with our CRM Solution Architect (Mon-Fri, 10 am-5 pm IST) – Click here
This year is going to bring trajectory expansion for the best performers. Then why be average when you can be a pro! Click here to know more.
For more resourceful reads on our blog: Healthcare CRM