Real Estate CRM gives effective sales target management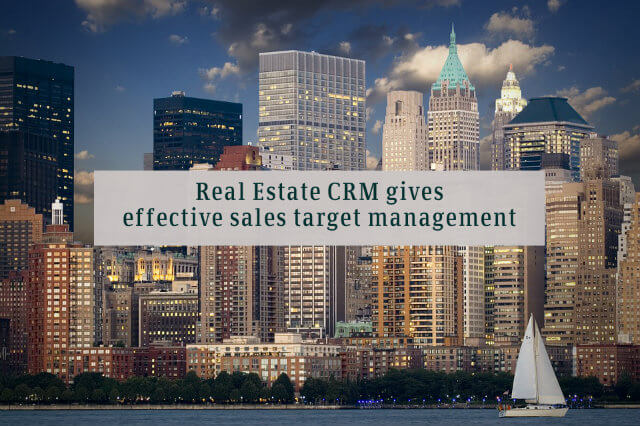 Real Estate businesses and their sales constraints:
Real Estate developers, marketing companies and other types of businesses that fall under the Real Estate industry spectrum always have tension stringing on making a sale. While the market demand is constantly dynamic and the quantity of potential buyers frequently changes, sales targets may seem to be in vortex. Though Real Estate businesses are not necessarily centred around sales targets, it does play a deciding role. Hence, achieving a property sale is what would decide how the sales targets fare.
To know all the ways in which you can improve the revenue performance of your Real Estate business, read this feature list. Get a gist of how beneficial a Real Estate CRM can be.
Sales Target Module
– Set, track and monitor your sales targets.
– Monitor your business growth.
– Track the performance of your sales teams.

4 Things you can do in sales target module:

1. You can set sales targets of your Real Estate company revenue-wise for any desired duration by filling in the current form fields.
2. You can set sales person wise targets for any duration. Eg: Month, quarter, half-year, year, etc.
3. You can know the sales targets achieved & balance with the precise count of days left for period completion.
4. You can revise & delete a respective sales target in the Revenue-wise Sales Target & Sales Person Wise Sales Target modules.
Conclusion:
To know more details about Real Estate CRM, try a demo here!
If you wish to read more posts, visit our Real Estate CRM category.

Also find these modules – Real Estate CRM
– Lead Module
– Follow-Up Module (Calls, SMS, Mass Emails & Meetings Modules)
– Client Module
– User Module
– Contact Module