How to track, monitor and achieve Sales Targets for Real Estate?
Real Estate businesses, after last year's dip will see a soar this year! So having businesses in a rat-race after a low season will not be a new sight. However, seeing yourself as a market leader can be a new & exciting sight, right? Our booklet will help you know how your business can achieve more sales targets with a Real Estate CRM.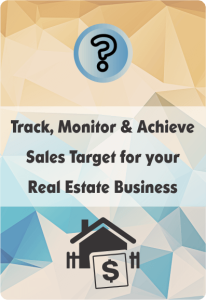 Resources on CRM For Real Estate Business:
1. Download Real Estate CRM Software Buyer's Guide
2. Download Top Features for Real Estate CRM Software
3. Download Infographic on Real Estate CRM
4. Sign up to view Reports in Real Estate CRM Software
5. Hosting, security, compatibility, integration and customization details of Real Estate CRM Software
6. Sign up for a Real Estate CRM Software Demo
Do you want an obligation-free consultation on Real Estate CRM?
Contact our CRM Solution Architect via phone or email – Click here
Chat with our CRM Solution Architect (Mon-Fri, 10 am-5 pm IST) – Click here
Excited already? Head here to get a feel of our Real Estate CRM
For more updates on Real Estate CRM, head here!