Factsheet on Hotel CRM
The Indian Hotel industry being a part of the travel & tourism sector has shown a differentiated trend for the last year. Despite of the stunted revenue growth and a slow third quarter previously, new initiatives like Make In India, E-visa and Digital India will seem to benefit the hotel businesses this year.
Hotel businesses will face fierce competition not just from competing hotelier businesses but also from online travel agents (OTAs) or travel portals.
In short, this year will be rewarding for the hotel industry in India provided their sales teams out-do OTAs in terms of catering to what their audiences are searching to delighting them with immaculate services.
All we can do is wish you the best! … or we could actually help you achieve your goal of making your hotel business a giant! Want to know how? Read our factsheet on Hotel CRM features & functionalities.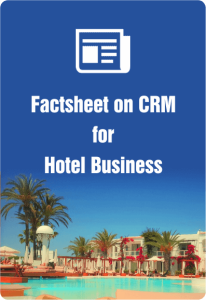 Resources on Hotel CRM Software:
1. Download Hotel CRM Buyer's Guide
2. Download Top Hotel CRM Features
3. Download Factsheet on Hotel CRM
3. Sign up to view Reports in CRM for Hotel Industry
4. Hosting, security, compatibility, integration and customization details of Hotel CRM
5. Sign up for a Hotel CRM Demo
Do you want an obligation-free consultation on CRM for Hotel industry?
Contact our Hotel CRM Solution Architect via phone or email – Click here
Chat with our Hotel CRM Solution Architect (Mon-Fri, 10 am-5 pm IST) – Click here
Are we ready to scale your business? Get a demo here, or know more here: Hotel CRM