Hotel CRM gives effective Sales Target Management!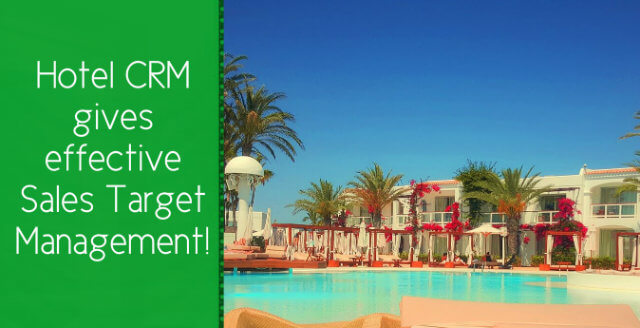 Sales Targets, Hotel businesses & CRM:
The Hotel industry, has been viewed as a lucrative industry sector as compared to its counterparts in Hospitality. The nature of this industry is quite seasonal but that does not hinder it from blooming. Considering the growth patterns of Hotel businesses in Australia, UK, U.S.A, Africa, etc. there is a huge scope for the Indian Hotel industry by 2020.
Making business expansion decisions requires constant monitoring of sales targets that are set and achieved. This ensures the plans made are not left behind on paper. Which is why hoteliers are moving towards automation and technological solutions like CRM to expand faster.
The Sales Target module in our Hotel CRM allows to set and monitor monthly, quarterly and yearly sales targets. It generates updated reports based on all important sales target stats. Hence no extra time is wasted in making the reports! Quick and informed decisions can be made with sales performance reports available in a Hotel CRM.
Sales target Module
This module helps you:
– Set, track and monitor sales targets for your Hotel business and sales people respectively.
– Monitor your financial growth.
– Monitor & manage the sales performance of your business and sales teams.
4 Things You Can Do In Sales Target Module:
1. You can set sales targets revenue-wise for any given period by filling in the current form fields.
2. You can set sales person wise targets for any duration.
3. You can see the targets achieved & pending with the exact number of days left for tenure completion.
4. You can modify & remove a respective sales target in the Revenue-wise Sales Target & Sales Person Wise Sales Target modules.
Conclusion:
Try a demo here for more clear understanding about Hotel CRM.
Also find these modules – Automotive CRM
– Lead Module 
– Calls, SMS, Emails & Meetings Module
– Clients Module
– Users Module
– Contacts Module
Resources & Sign Up: