Managing contacts for Automotive business in a CRM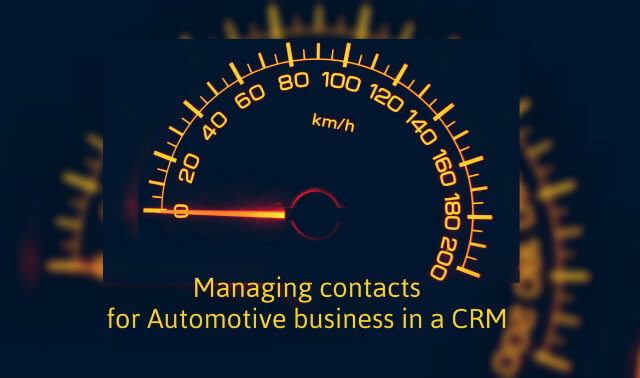 Contacts management, Automotive businesses & CRM:
Continuous product & technological developments in the Automotive industry are paving way for a new approach towards the consumer base who has a lesser price sensitivity ratio.
As an car / bike / Carrier Goods Vehicle retailer or counter part of this industry, you may have to deal with various leads, clients, showroom dealers, services vendors, etc. It is essential to categorize these contacts for better understanding of what you want to convey. All of their information, when stored and accessed from a single console facilitates operational efficiency.
The Contacts module of our Automotive CRM can help your sales teams make communications with the right set of target audience. This is information beyond just the basic information!
Contacts Module
This module lets you:
– Store, modify and delete contact details of clients, leads, vendors, etc.
– Prevent duplication of telephone, mobile numbers and email ids.
– You can categorize and tag contacts.
14 Things You Can Do In Contacts Module:
1. You can import your existing contacts.
2. You can add contact details of leads, clients, vendors etc.
3. You can give tags to categorize contacts of leads, clients, vendors, etc. Eg: Hot Lead, Very Important Client, etc.
4. You can add birth dates, anniversaries, remarks and other information about respective contacts.
5. You can view & edit contacts.
6. You can do the following in List Contacts:
– Update Contact status
– Create Quotation
– Schedule Meetings
– Send / Schedule Emails
– Schedule Follow-up Calls
– Schedule SMS
– Modify details of the contact
– Reactivate or deactivate a contact
– Delete a contact
Conclusion:
A CRM for your Automotive business can help you maximize your sales productivity! Take a quick look at this demo on Automotive CRM!
Looking for more resourceful reads? There's more on our blog for you. 🙂
Also find these modules – Automotive CRM
– Sales Target Module
– Leads Module 
– Follow – Up (Calls, SMS, Emails & Meetings Module)
– Clients Module
– User Module