Retaining Clients in Insurance business with CRM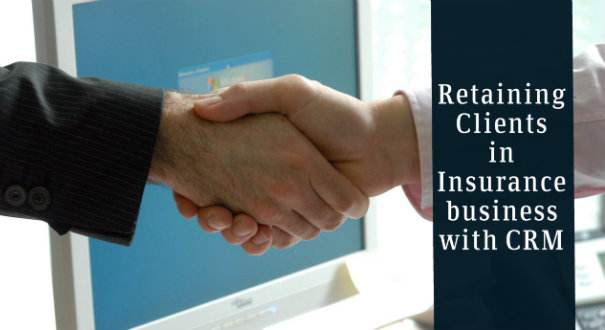 Client acquisition & retention, Insurance businesses & CRM:
For an Insurance company, a client of their medical insurance policy may also have the potential to be customer for their car insurance policy. Identifying these possibilities is crucial for insurance businesses to tap on every business opportunity. Cross selling or upselling of products and services becomes easier when all the client information is available at a click's distance.
The Client module of the Insurance CRM is a one stop solution for client acquisitions and retention. Users can store client data, make follow ups via calls, emails, sms and set reminders for meetings. There is a bunch of tools and functionalities that Insurance businesses can use to gauge the urgency of buying, the revenue generated from each Client, track communication histories, etc.
Businesses in U.S.A, UK, Australia, Hong Kong, etc. are using CRM to improve their Client base revenue cycle. Know how a CRM can help your business in detail with this feature booklet.
Clients Module
This module lets you:
– Maintain a database of all Clients & their contacts.
– You can add contact details of Clients.
– Assign, categorize, and communicate seamlessly with your Clients.
– Store basic details of products & services your Clients have taken from you.
– Save important dates regarding products and services purchased.

21 Things You Can Do In Clients Module:
1. You can add contact details of Clients & attach documents if needed.
2. You can categorize, assign & share Clients with other users in the CRM.
3. You can pull data of the converted leads.
4. You can view contact details of all Clients.
5. You can do the following by using the action button of the List Clients module:
– Edit the Client Status
– Edit the Client Category
– View Communication History
– Create Quotation
– Add Product / Service
– Add Payment Reminder
– Schedule Meetings
– Schedule Calls
– Schedule Emails
– Schedule SMS
– Modify Details of a Client
– Add Contacts to a Client
– Add Remarks for a Client
– Attach Documents
– Deactivate / Reactivate a Client
– Delete a Client

Conclusion:
The Insurance CRM has all the features that streamline and automate the sales process.
You can know more on Insurance CRM with a quick demo here.

Also find these modules – Insurance CRM
– Sales Target Module
– Leads Module
– Follow – Up Module (Calls, SMS, Emails & Meetings Module)
– Users Module
– Contacts Module
Resources & sign-up: