Which business is Automotive CRM useful for?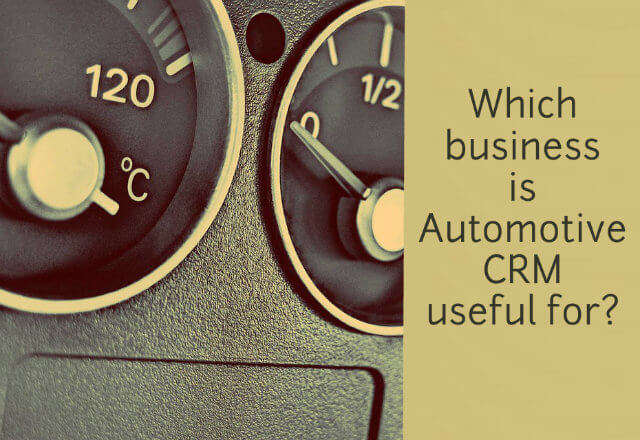 Scenario of the Automotive industry – 2017:
– This year shows a fiscal growth which was last seen in 2012 around 14% after which it waltzed between 3% – 8%. This is thanks to reducing fuel prices and better finance that has contributed to affordable spending on two wheeler scooters and bikes.
– Strong buying sentiment and better monsoons have given the passenger vehicle businesses an appraisal. Passenger vehicles sales had crossed a staggering 15% in August, 2016 and the expected sales goes into millions of units by 2020.
– As road freight is a major section of the logistics industry and the fact that the Indian freight transport market is expected to grow at a CAGR of 13.35% by 2020. The major drivers of this are the growing manufacturing, retail, FMCG and e-commerce businesses. Sales will piggy back on the monsoon and stable crude oil prices this year.
– New concepts so close on the horizon will gradually redefine the way auto insurance (by 2020) is looked at by vehicle owners and auto insurance providers. An increase in four wheeler purchase and rising rental car segment call for a preference towards auto insurance. Considering the fact that two wheeler, passenger and heavy vehicle sales usher towards higher revenue; auto insurance businesses too would have a coupling effect.
– There is a mixed range of loan providers and NBFCs to cater to vehicle buyers. The comparatively lower interest rates have been the wind beneath the wings of increasing vehicle sales. As dealerships continue to tie up with loan providing companies, the road ahead seems bright for the finance section of the Automotive industry.
Below is the list of all the businesses in the Automotive industry that our CRM is applicable for.
1. Bike Showrooms
2. Car Showrooms
3. Carrier Goods Vehicle (CGV) Showrooms
4. Businesses / agents selling Insurance for bikes, cars & Carrier Goods Vehicles (CGV)
5. Companies providing loans for Car, Bike & Carrier Goods Vehicles (CGV)
In case, your business type is not listed below please contact our Solution Architect to know if our CRM can address your business needs.
Conclusion:
Ergo, the graph for all the above mentioned businesses will face a consistent increase in oncoming business and a want for improved business process to exploit this opportunity to the best.
Given these trends, business owners would need to saddle up with their sales and business process efficiency.
To see how an Automotive CRM can help, click here!
For more posts, see our Automotive CRM blog category.
Do you want an obligation-free consultation on  CRM Software?
Contact our CRM Solution Architect via phone or email – Click here
Chat with our CRM Solution Architect (Mon-Fri, 10 am-5 pm IST) – Click here
To read more content, click: CRM Software