8 Ways BPO CRM is a sales boost!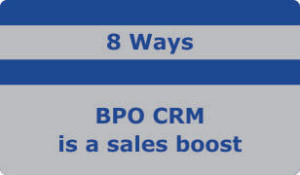 When all your business transactions are happening over the phone, losing track of what your customer is being delivered with becomes pretty easy. If you're the aware entrepreneur who wants to constantly evolve your business performance, here are some points that can direct you towards a means to your ends.
1. Receive more customers:
Your BPO executives can reduce their requirement gathering process by saving minutes swaying between multiple applications. Get crisp details and quicken the sales escalation by feeding correct lead details into the crm system.
2. Know client requirements, have informed conversations:
For return clients, a crm system gives you all information about your respective client's purchase history, preferences, etc. in a flash. This lets any of your sales people instantly get acquainted with the customer and fetch better outcomes.
Multiply this effect into the tons of calls you get and see the huge difference it can make in scaling!
3. Pitch your stock products / services:
Sales calls are very crucial and have quick conclusions. You don't want to lose out on marginal amounts of business calls due to a half informed sales team. Quickly match their products requirements:A BPO crm gives your sales team members every minute detail about the product / service in seconds. Giving your team this advantage of on-demand information enables them to pitch the most suited and viable ones.
Striking increasing numbers of deals with such functionality will help your business expand across leaps and bounds.
4. Delight customers & provide instant services:

Customers enjoy prompt services & faster answers to their queries. Reducing the blind corners your sales team could face should be a priority to increase their efficiency. Meaning, no random question thrown by your customer will put your sales people behind the curb.
A BPO crm can increase the value of each sales call by delighting marginally more customers.
With a BPO CRM you can also:
5. Reports to know each sales executives service time.
6. Stay informed about the sales performance of each product / service.
7. Landscape view of your BPO on the go.
8. Know how each sales call is faring.
A BPO crm can prove as a catalyst to boost your sales. Take the right call for your business right here!
If you want over the phone guidance, reach us here.
For more reads: BPO CRM.