Best CRM For Real Estate Agents!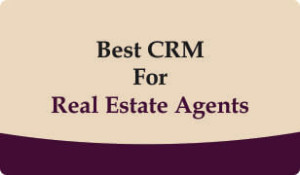 Cut throat competition is always something that's been a constant in the Real Estate business. In a pool of fierce competition it would mean outperforming your sales. So when it's always a make it or break it situation for your real estate marketing business, there's a lot weighing on your sales team's performance.
See these pointers to see how a real estate crm can escalate your business sales performance to a higher revenue turnover:
1. Managing and capturing more leads effectively:

Welcome all leads with arms wide open because a crm empowers your sales team with precise requirement gathering and contact details.
2. Stay organized, co-ordinate & allocate leads:

Centrally stored data saves your critical information from scattering between spread sheets, sticky notes and diaries. A crm is carefully structured to help your sales persons and agents with easy access to data such as client contact details, requirements, inquiries, etc. Your sales team can remain organized, co-ordinate with required individuals and have complete clarity about the prospects allocated to them. Reminders for follow-ups make sure your team has their priorities and sales activities streamlined.
3. Getting more bookings from sales follow-ups:
Your sales persons agents can do diligent follow-ups through a single crm platform. This means they'll never miss a lead. So religious follow-ups for more leads will surely fetch you more site visits and bookings.
4. Giving the clients what they want:

Knowing all the flats / properties available for purchase will save your sales people and agents from whacking their heads trying to remember if there's a specific type of property available. All they'll need to do is check for all the available flats / properties and their specifications, match it with the requirements. Next step? Wow your leads with something they want!
Manually remembering can be a tricky task leaving a lot of space for human error. With a real estate crm you can evidently reduce.
5. Keeping a track of all visits:

Numbers can be vague on paper, but on a crm you'll get exact figures in real time.
You'll proactively know:
– Which site has exactly how many visits?
– Which is your hot property?
– How many people are in the visits stage of your sales pipeline?
These factors will give sales forecasts accordingly to help you know where your sales stand.
6. Easy processes for property purchases:

Converting leads into clients and getting the document collected on the fly can get speedy and simpler for your sales people / agents. Attaching scanned documents of clients will help automate and have it accessed by relevant people in your Real Estate enterprise.
7. Analyze your sales pipeline performance:

When there's a lot happening in sales it can get difficult to put a pin on what matters most. Get a direct view into your sales using an equipped crm and detailed reports in a real estate crm system. So you can easily know the pressing and elevating aspects of sales.
8. Know how your sales team / agents are faring:

Monitoring your sales people's activities leaves no space for assumptions. So all you'll have is real activities being updated in real time with physical outcomes.
Spot your best and worst sales people and get literal details on how their follow-ups are faring.
You can also know:
-Which sales person is handling how many hot / warm / cold leads?
-How many units is each sales person selling?
-What revenue is every sales person drawing?
These criteria can help you set and achieve optimistic sales targets.
9. Target & execute marketing campaigns:

Knowing your sales patterns and buyer's behavior can help you identify trends. You can discover more about your buyers and target marketing campaigns accordingly.
Plus, an integrated mailing lets you easily undertake successful marketing campaigns.
10. Make strategic plans:

Know your strengths and weaknesses to make precise business decisions. Key sales analytics can give you exhaustive information about all your sales, sales people, leads and clients in real time can help make the best informed business decisions. You're just a crm away for a pioneering business.
Like Mark Twain said, "The secret of getting ahead is getting started". Get started with a Real Estate CRM here. 🙂
Looking For more informational stuff on Real Estate CRM? Click here!