Complete evaluation of CRM for Education business
Making business moves can always leave you in a catch 22 situation! How do you know the best or the least dicey ones? Buying an education crm can be as crucial as introducing a new course or tying-up with a partner for something new. Here's our helping hand towards you for an extensive evaluation of an education crm.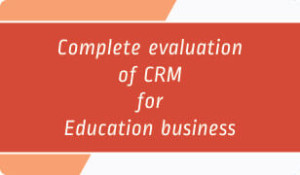 These pointers will help you understand how a crm can help you from student enquiries to admissions:
1. Store data of student enquiries from different sources into one centralized space:
Being organized is a trait highly placed by education businesses and organizations. If your data is unorganized, it would reflect in your functionality and vice versa. You don't want students or their enquiring parents perceiving your organization as unorganized and clumsy.
In fact, people actually consider "being organized" as a primary hint of high quality. Which is why a crm is suggested.
2. Categorize & allocate leads from multiple sources:
New age learners or shall we say students are everywhere. You would possibly face an overload of prospects applying from various sources be it your website, some student campaign or even online third party portals! Being able to gather and attend to each one can help you create a positive chain effect in your sales cycle.
An education crm lets you import, add, categorize and allocate prospects accordingly.
3. Increase your conversion chances with a diligent follow-up routine for enquiries:
Every large difference is a consequent outcome of perseverance! The same goes for increasing your organization's student base. A crm lets your sales people set reminders, schedule and device follow-ups with precise requirement data.
4. Easily manage courses and students enquiring:
Providing exactly what enquiring students need will not only simplify your sales persuasion but also project you as a reliable source. Building strong relations with students and parents is smoother when your organization is looked at as reliable and trustworthy.
An education crm's centralized storage and sorted data lets you know the requirement details of every prospect and easily match it with the available courses. Conversion can be rapid if this step is taken care of.
5. Leverage your data for maximum attention through drip marketing campaigns:
It's easy to forget something soon as we're in an age of instant consumption. Hence, it's important to maintain a high recall value. For which you can utilize a crm and it's robust data storage to run email campaigns.
This will instantly help you target your niche audience and reach out to an ever increasing student pool.
6. Simplify payment processes:
Having a hassle-free payment collection and processing will internally help your employees in daily processes. It also invariably quickens enrolling prospects and gives an added benefit of prompt service.
All your sales people will need to do is attach copies of the invoice & documents and your accounts team can get updates as to when to process payments.
7. Know your "score sheet" through real time reports:
Every business move needs your evaluation because the slightest changes can have the most drastic effects whether negative or positive and we know how extensive evaluations can be.
Reports in an education crm give you a flexible view of your organization's sales in depth. Plus you can see peak seasons, reasons, etc. for why you're getting / missing business & found powerful strategies to get more admissions.
8. See your sales team's performance:
Knowing which sales person, campaign, course is performing and which are not will help you identify loopholes in your sales cycle and boost seamless sales processes. An education crm indirectly lets you elevate your business revenue through its equipped system, follow-up tools, access control, real-time reports and much more.
9. Maintain records of prospects and converted leads:
What if you're asked, "how many leads have you converted?", "how many leads slipped away?" and "how many leads do you need to convert?" , you'll have probable answers. If you want updated numbers, intelligent crm reports are your answer. Having all your client and lead details can give you an advantage in winning business.
You can use the education crm for your business to:
– Leverage student data hub to further pursue enrolled students for future relevant courses,
– Customize the crm as per your requirements,
– Integrate with your existing softwares, etc.
For more on the education crm's valuation contact us!