Buyers Guide for Education CRM
We strive to collate information from the CRM domain expertise and industry knowledge that our team has gained over the years and share it with you, to help you make the right decision.
Having served 200+ clients (view our latest client list ) and providing CRM for several industries, our team has made a Buyers guide for Education CRM Software to help you evaluate and guide you in the process of buying and implementing a CRM Software for your Education organization.
How an Education CRM Software can help the Education businesses:
An Education CRM software gives crystal-clear bifurcated reports for students enrolled, student enquiries, staffs' performance, branch performances, etc. A CRM for education and higher education actually helps in goal setting and attaining as well as serves as a reliable support solution for all the responsible tasks involved in driving an education business towards exponential growth.
Get your copy of Buyers Guide for Education CRM Software by clicking on the image below.
You would be directed to the section of our website from where you could download.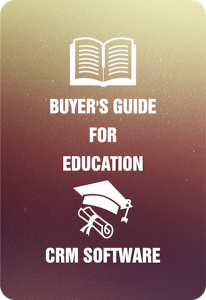 Who should download this ?
1) Top decision makers: CEOs, Entrepreneurs, Chair persons, Vice Presidents, Directors, etc.
2) Management positions: Sales managers, Business heads, Project Managers, all decision makers, etc.
3) Sales teams.
Even if you're not either one of the above, it's still a good read for you.
Resources on CRM Software for Education Industry:
1. Download Buyer's Guide for Education CRM Software
2. Download Top Features for Education CRM Software
3. Sign up to view Reports in CRM Software
4. Hosting, security, compatibility, integration and customization details of Education CRM
5. Sign up for an Education CRM Demo
Do you want an obligation-free consultation on CRM for Education Industry?
Contact our CRM Solution Architect via phone or email – Click here
Chat with our CRM Solution Architect (Mon-Fri, 10 am-5 pm IST) – Click here
Don't just scan this buyers guide, get your CRM console to boost your business. In case you to do more research, read our Education CRM blog posts. 🙂