Checklist for Buying Banking CRM
Why are we creating this Checklist for Buying a Banking CRM? 
Since, we faced a lot of issues while evaluating and buying tools, technologies and softwares for our internal use as well as for our CRM Software we thought of creating a series of content to provide all possible information about CRM software and business in general.
Having served 200+ clients ( view our latest client list ) and providing CRM for several industries, our team has made a Checklist for Buying a Banking CRM Software.
How a Banking CRM Software can help the banking industry:
Having a banking crm software actually provides agility to the day to day banking processes as it streamlines all the regular activities involved in a banking system. It helps centrally store all the prospect details and keeps a record of all the enquiries which helps the bank convert more leads by actively knowing & effectively following-up on all the leads. It provides absolute transparency and lets higher officials monitor the regular sales activities, follow-ups, performance on lead conversions, revenue growth trends, etc. to enhance productivity and reduce spill-overs and resource wastage.
It makes communication for all the bank sales team employees integrated with emails, calls and messages both for internal purposes as well as to communicate with prospective clients.
Who should download this ?
1) Top decision makers: CEOs, Entrepreneurs, Chair persons, Vice Presidents, Directors, etc.
2) Management positions: Sales managers, Business heads, IT Purchase Officers, all decision makers, etc.
3) Sales teams.
Even if you're not either one of the above, it's still a good read for you.
Get your copy of Checklist for buying a Banking CRM by clicking on the image below.
You would be directed to the section of our website from where you could download.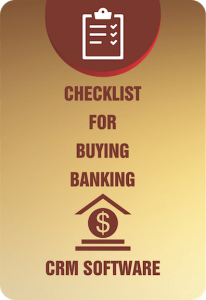 Resources on Banking CRM Software:
1. Download Banking CRM Software Buyer's Guide
2. Download Top Features for Banking CRM Software
3. Sign up to view Reports in Banking CRM Software
4. Hosting, security, compatibility, integration and customization details of Banking CRM Software
5. Sign up for a Banking CRM Demo
Do you want an obligation-free consultation on Banking CRM Software?
Contact our Banking CRM Solution Architect via phone or email – Click here
Chat with our CRM Solution Architect (Mon-Fri, 10 am-5 pm IST) – Click here
To read more blog post , click: Banking CRM
Cheers! You're on your way to the best CRM experience! Don't forget to toast for us. 😉