Checklist for buying CRM for Import Export Business
Since we've catered to the various industries and have a crm software. We all know that one shoe can't fit all, so we've launched a dedicated section for CRM for Import Export Business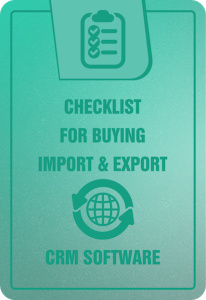 Basic information on CRM for Import Export Business
A CRM Software provides ultimate solutions for managing and storing all the client data and service details. It also helps maintain client and lead records and contact details along with the corresponding services provided. A CRM software for import and export business gives clarity and perfect views of the volume of business being carried-on, business to be generated and business expected. These can be further given concisely through reports for sales person performances. It streamlines follow-up and all the communication activities that would be involved in an import and export business.
More info about CRM Software for Import Export Business:
1. Buyer's Guide for Import Export
2. Top features of Import Export CRM
3. Reports in CRM Software for Import Export
3. Hosting, security, compatibility, integration and customization details of CRM Software for Import Export
5. Step-wise guide to buy a CRM Software for Import Export Business
We hope you found this blog resourceful, we strive to collate information from the domain expertise and industry knowledge that our team has gained over the years and share it with you.
To read more content, click: Import Export Business CRM
Sign up for CRM Software Demo