Complete CRM For Real Estate Marketing Companies
Hola Realtor! How's your day faring? Flaring or failing? You being an integral part of a Real Estate Marketing Company know how hard it can get to make a sell. There's an entire obstacle course you need to clear before you can make a sale. Thinking about managing a horde of clients, entertaining them and catering to their needs without losing track of all the action happening and mixing up their details & preferences is so complicated. Seriously, the previous line looks too long to fathom! It's a wonder how overwhelming each day gets for you Real Estate Marketeers.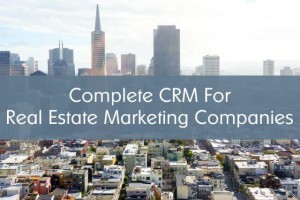 Incase you're feeling neck deep in sales trying to juggle and balance a lot of business that's at stake, here's a floater for you! A real estate crm solution that will enable you to stay afloat of all the sales activities, manage and grow your business faster in a qualitative and quantitative manner.
See for yourself how a Real Estate CRM is an absolute solution that can help you tower your sales performance: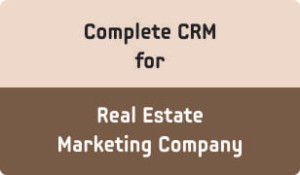 A Real estate crm can blow fresh air into your sales.
1. Know your clients and potential buyers better:
Getting your rapport right with prospective clients is the pulse of your sales. Good sales seeds from knowing and having a clear image of your target audience.This would be quicker and convenient if you know all their details and preferences. Know whether they're looking for a single accommodation or for a family or for an investment.
In a real estate crm you can easily enter and access such handy information in seconds!
2. Efficiently serve clients / Improve client service experiences:
Know the stage at which they are in the sales pipeline ( enquiry, site visits, booking, loan, registration, possession, etc.) and enhance their prospecting and purchasing phase by providing impeccable service. Using a real estate crm gives your sales teams the competence of exact and punctual follow-ups through calls, emails, sms, meetings, site visits, etc.  
3. Get real time reports to analyze sales:
Do your own internal SWOT analysis (Strengths, Weaknesses, Opportunities, Threats) with in-depth reports. Insights into the performance of projects, sales people and your enterprise in totality for any desired period i.e. day, month, quarter, year, etc is always a good bargain.
4. Devise Strong Strategies:
Make fool-proof marketing and sales strategies with the help of insights you'll gain from precise reports in the real estate crm.
5. Build valuable client relations:
Send marketing and reminder sms, mails and calls easily from a single integrated platform. A real estate crm gives you the advantage of answering all your clients. Since real estate purchases such as flats are mostly emotional ones, you can win your clients' hearts over by providing them personalized experiences. A crm lets you hit the right nerve to get the purchase done.
Increase your chances of getting references from your clients and more return customers. Plus you get to do drip marketing campaigns to market your value!
6. Win more clients:
A resilient base once created using efficient lead management tools in the real estate crm creates highly favorable conditions for deals closing in your favour. Knowing your buyer's purchase history and behaviour gives you more juicy sales information to set, track and achieve more sales targets.
7. Know what each sales person is doing:
You get a deep view of all your sales people's activities. Never lose sight of sales people whether they're 10 or 100! You can conveniently monitor, track and analyze each sales person's performance in numbers.
8. Crystal clear internal communication:
This ensures that everyone important stays in the loop. A smart dashboard and right sharing properties of a real estate crm let you assign leads, plan and organize tasks and monitor sales in real time.
Get a direct view into what every sales person is doing and how much business each person is bringing in. This will lead you to wiser and informed business decisions.
So prepare to be overjoyed once you learn that earning more profits, knowing your cash inflow and outflow from flat sales and forecasting your sales could be so much simpler!
The main motto for Real Estate businesses is 'profit'! So once you're ready to scale your business with a power packed console, click here for a Real Estate CRM.
Read more blog posts on Real Estate CRM right here. 🙂