How Insurance CRM increases profits and performance
Multiplying your business revenue and employee productivity couldn't be anysimpler! Keen on knowing how? Continue reading.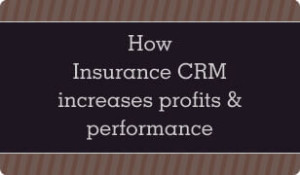 1. Set sales targets, monitor their progress:
The first step to achieving sales targets is setting them, a crm lets you set sales targets for your organization, sales people and agents for a desired period. You can monitor in real time all the advances and achievements done / not done and leap accordingly.
2. Collate leads from multiple sources:
Knowing all about the first point of contact between your leads and your organization can boost further interaction. In an insurance crm you can keep track of all your leads by importing data from your sources.
3. Allocate & attend to more leads qualitatively:
Having all your lead data in an insurance crm ensures two things:
– Your data is free of errors.
– Your lead details and contacts are safe and intact.
– Your sales people can have valuable follow-up interactions.
These will ensure
– every sales follow-up starts off on the right note,
– your sales people will address to customer needs in the best possible
manner,
– improved outcomes from follow-ups
4. Know all your available policies and their sales:
Knowing every detail about every at the back of your hand can be tricky. Your prospective deal could go south if your sales people / agents don't get this part perfectly. An insurance crm can display details of every insurance from its basic details to the number of policies sold, pipelined, available.
The convenience of getting all the critical at the click of your cursor really lets you work seamlessly.
5. Get more up-selling & cross-selling done:
A crm system gives you robust storage of all your client data, client purchase history, insurance renewal dates, etc. Giving your sales people and agents the exact tool to identify needs and opportunities to upsell and cross-sell policies.
6. Have a 360 degree view of your Insurance business:
Staying afloat about everything happening in your organization is highly important for excellent people and business management. Use a crm dashboard to get a real-time view of your organization, it'll give you clearer perspectives about your sales, sales people, leads and clients.
An insurance crm gives you the mastery of conceptualizing wiser plans for your business.
For an Insurance CRM, click here!
Or you could read more on Insurance CRM here. 🙂