Insurance CRM gives effective Sales Target Management!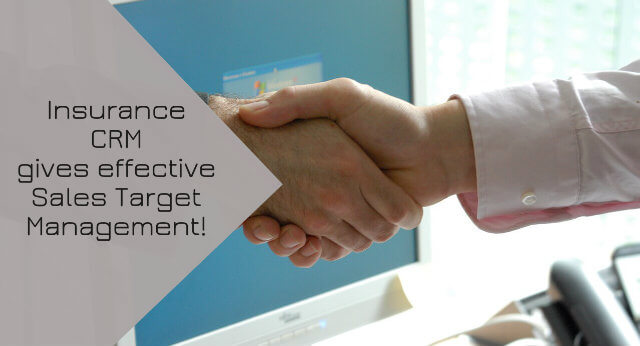 Sales targets, Insurance businesses and CRM:
The insurance industry has been operating in India from late 1800s, but it took almost a century for Indians to look beyond the life insurance policy. Awareness about general insurance policies has paved way for growth of insurance companies. Being insured is almost a given in countries like the U.S.A, UK, Australia, etc. And the Insurance industry has an ever increasing trend which will exceed beyond 2017 – 2020.
Setting realistic sale targets is a must for insurance companies to grab this opportunity. To help insurance companies achieve this objective, an Insurance CRM can prove to be of great help.
It provides a comprehensive view of targets set, achieved and balance. It also generates updated reports on sales performance and much more features that can boost your business.
Sales Target Module – Insurance CRM
This module lets you:
– Set, track and monitor your sales targets.
– Monitor your business growth.
– Track the performance of your sales teams.
5 Things You Can Do In Sales Target Module:
1. You can set your firm's sales targets revenue-wise for any desired period by filling in the current form fields.
2. You can set sales person-wise targets and define the incentives applicable for your sales people / agents in any tenure.
3. You can view the targets achieved & balance with the exact number of days left for target completion.
4. You can view the targets allocated to sales employees, know the achieved and balance target in real time with the incentives applicable.
5. You can edit & delete a respective sales target in the Revenue-wise Sales Target & Touchpoint wise Sales Target modules.
Conclusion:

You can know more on Insurance CRM here with a demo.
Get more resourceful read in our Insurance CRM blog category.
Also find these modules – Insurance CRM
– Leads Module
– Follow – Up Module (Calls, SMS, Emails & Meetings Module)
– Clients Module
– Users Module
– Contacts Module
Resources & sign-up: