Managing contacts for Insurance business in a CRM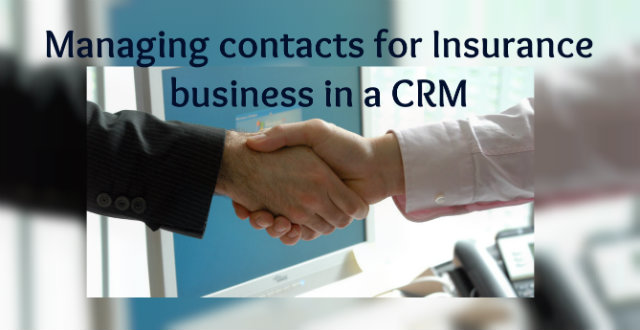 Contacts management, Insurance businesses & CRM:
Businesses across Australia, U.S.A, UK, etc. have had a faster paced development and India could speed up to their level by 2020 provided they can utilize their resources and save time. Contact management is one activity that can not only save time but also improve the ease with which data is accessed.
The Contacts module of the Insurance CRM can help your employees & business. Refer this booklet to know more!
Contacts Module
This module lets you:
– Store, modify and delete contact details of clients, leads, vendors, etc.
– Prevent duplication of telephone, mobile numbers and email ids.
– You can categorize and tag contacts.
14 Things You Can Do In Contacts Module:
1. You can import your existing contacts.
2. You can add contact details of leads, clients, vendors etc.
3. You can give tags to categorize contacts of leads, clients, vendors, etc. Eg: Hot Lead, Very Important Client, etc.
4. You can add birth dates, anniversaries, remarks and other information about respective contacts.
5. You can view & edit contacts.
6. You can do the following in List Contacts:
– Update Contact status
– Create Quotation
– Schedule Meetings
– Send / Schedule Emails
– Schedule Follow-up Calls
– Schedule SMS
– Modify details of the contact
– Reactivate or deactivate a contact
– Delete a contact

Conclusion:
Know more about CRM for Insurance here!
Get more resourceful reads on our blog: Insurance CRM 
Also find these modules – Insurance CRM
– Sales Target Module
– Leads Module
– Follow – Up Module (Calls, SMS, Emails & Meetings Module)
– Clients Module
– Users Module
Resources & sign-up: