Factsheet on Insurance CRM
The Indian Insurance industry will see a hike in its revenue this year. New movements like the 'Make In India', 'Digital India', investment in infrastructure, the concept of smart cities and the increased centimen value for travel & tourism. The increased purchasing power of the masses will also be one of the major factors that will induce marginally greater numbers in Insurance sales.
Talking about sales, isn't that always on your priority list? Oh and you won't want to compromise on your efficiency and excellence, right? See our factsheet to see how an Insurance crm can help you scale your business faster!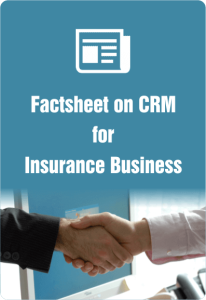 Resources for Insurance CRM:
1. Download CRM Buyer's Guide for Insurance Industry
2. Download Top Features of Insurance CRM Software
3. Download Checklist For Buying Insurance CRM Software
4. Download Booklet on Sales Target Management For Insurance CRM
5. Download Infographic on Features & Functionalities of Insurance CRM
7. Sign up to view Reports in Insurance CRM Software
8. Hosting, security, compatibility, integration and customization details of CRM 
9. Sign up for an Insurance CRM Software Demo
Do you want an obligation-free consultation on CRM?
Contact our CRM Solution Architect via phone or email – Click here
Chat with our CRM Solution Architect (Mon-Fri, 10 am-5 pm IST) – Click here
If you wish to know more about an Insurance CRM, click here.
Want to read more about the Insurance industry and CRM? Head here!