Factsheet on Import Export CRM
"The import export industry is booming!" This would've been true if you were back in the years. The import export businesses have been facing a preceding low-time and the forecasts for this year aren't exciting.
But why settle for what's already there? It's time to change the currents in this flow to a brighter direction! How about picking up your business and accelerating it with the help of a crm? See our fact sheet to see how a crm can help your business pivot!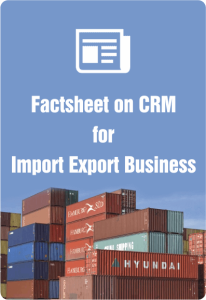 More info about CRM Software for Import Export Business:
1. Buyer's Guide for Import Export
2. Top features of Import Export CRM
3. Reports in CRM Software for Import Export
3. Hosting, security, compatibility, integration and customization details of CRM Software for Import Export
5. Step-wise guide to buy a CRM Software for Import Export Business
We hope you found this blog resourceful, we strive to collate information from the domain expertise and industry knowledge that our team has gained over the years and share it with you.
Now that you know the ways in which you can transform your business, click here for a free demo!
Or you could know more about CRM systems for import export here. 🙂