CRM For Lead Management In Hotel Business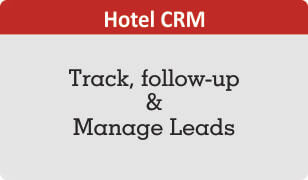 Do you face problems in managing leads and tracking sales follow-ups for your Hotel Business?
If yes, knowing these would be of utmost concerns:
– Which are the lead sources?
– Leads from which source are getting converted?
– Which sales person is converting more leads?
– Which sales person is not following-up leads properly?
– Are all leads being followed-up regularly?
How can a Hotel CRM help you solve this problem?
-The 'Lead Module' lets you add contact and have a smarter, more precise requirement gathering process for leads
– Assign leads manually or automatically to sales people / agents
– Monitor sales follow-ups of every sales person
– Get real time reports to know the follow-up and conversion reports daily, monthly, quarterly, half-yearly, yearly, etc.
– Let your sales team set reminders and follow-up precisely using an equipped console of tools.
Resources on Hotel CRM Software:
1. Download Hotel CRM Buyer's Guide
2. Download Top Hotel CRM Features
3. Download Factsheet on Hotel CRM
3. Sign up to view Reports in CRM for Hotel Industry
4. Hosting, security, compatibility, integration and customization details of Hotel CRM 
5. Sign up for a Hotel CRM Demo
Do you want an obligation-free consultation on CRM for Hotel industry?
Contact our Hotel CRM Solution Architect via phone or email – Click here
Chat with our Hotel CRM Solution Architect (Mon-Fri, 10 am-5 pm IST) – Click here
Want to know more about the wonders of Lead Management with a Hotel CRM? Head here!
If you're in for some good reads: Hotel CRM. 🙂