Factsheet on Education CRM
Education business is one such stream whose river can never run dry! There are thousands and lakhs of educational institutes for primary, secondary, tertiary & professional courses and the count will continue to go on this year as well.
One secret to business success is an understanding of increasing your probability and the ability to communicate your institution's value to prospective students. A CRM helps you know and correctly gauge how your organization is performing. Here's a Factsheet for your better understanding.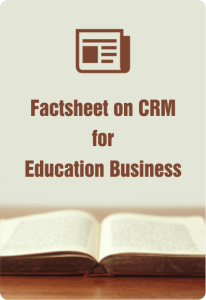 Resources on CRM Software for Education Industry:
1. Download Buyer's Guide for Education CRM Software 
2. Download Top Features for Education CRM Software
3. Education CRM Features and Functionalities Infographic
4. Sign up to view Reports in Education CRM 
5. Hosting, security, compatibility, integration and customization details of Education CRM 
6. Sign up for an Education CRM Demo
Do you want an obligation-free consultation on CRM for Education Industry?
Contact our Education CRM Solution Architect via phone or email – Click here
Chat with ourEducation CRM Solution Architect (Mon-Fri, 10 am-5 pm IST) – Click here
Oh and if your sales team is blatantly missing out on leads, a CRM will help you solve this.  Click here to know more: Education CRM
Or you could head to our Education CRM category for more reads.