How to track, monitor and achieve Sales Targets for Automotive business?
The Indian Automotive industry has become one of the largest across the globe after it achieved the sales targets of 2014-2015 to give an impressive turn over. It also has set optimistic targets and goals to be achieved for 2016 under the second Automotive Mission Plan 2016-2026.
The Indian Automotive Industry has a road mapped for it's growth not just for this year but also this decade. This proves 2016 as the dawn of a new and game-changing market. So do you want to be an alpha organization whose sales are as path breaking as their innovation? Our booklet shows you how.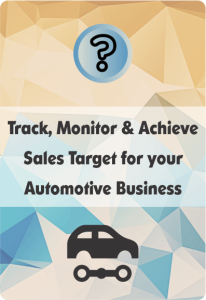 Resources on CRM for Automotive business:
1. Download Automotive CRM Buyer's Guide
2. Download Top 13 Features of Automotive CRM
3. Download Checklist For Buying Automotive CRM
4. Download Booklet on Sales Target Management
5. Sign up to view Reports in Automotive CRM Software
6. Hosting, security, compatibility, integration and customization details of Automotive CRM
7. Sign up for an Automotive CRM Software Demo
Do you want an obligation-free consultation on CRM For Automobile Industry?
Contact our CRM Solution Architect via phone or email – Click here
Chat with our CRM Solution Architect (Mon-Fri, 10 am-5 pm IST) – Click here
There are a hundred ways to do good business but there are a few ways to do great business! It's obvious why everyone loves the "Express Way". 😉
To read more blog post , click: Automotive CRM