Factsheet on Real Estate CRM
This year will bring in a positive growth for the business involved in Real Estate. Real Estate businesses can be looking at higher sales, this is will be thanks to less restricted FDI, increased spendings on office spaces and residential flats & houses.
This will be the year when your efforts will go from "futile" to "fertile" and this will just get better with a real estate crm! Our factsheet shows you the features and functionalities a crm has that'll help your real estate business climb the ladder faster!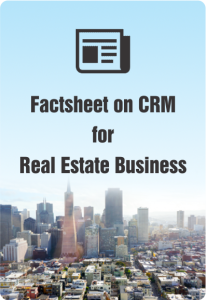 Resources on CRM For Real Estate Business:
1. Download Real Estate CRM Software Buyer's Guide
2. Download Top Features for Real Estate CRM Software
3. Download Infographic on Real Estate CRM
4. Sign up to view Reports in Real Estate CRM Software
5. Hosting, security, compatibility, integration and customization details of Real Estate CRM Software
6. Sign up for a Real Estate CRM Software Demo
Do you want an obligation-free consultation on Real Estate CRM?
Contact our CRM Solution Architect via phone or email – Click here
Chat with our CRM Solution Architect (Mon-Fri, 10 am-5 pm IST) – Click here
If you want your business to escalate faster, head here for a free demo. 🙂
You could also browse through our Real Estate blog posts here.