All about Real Estate CRM – Part 2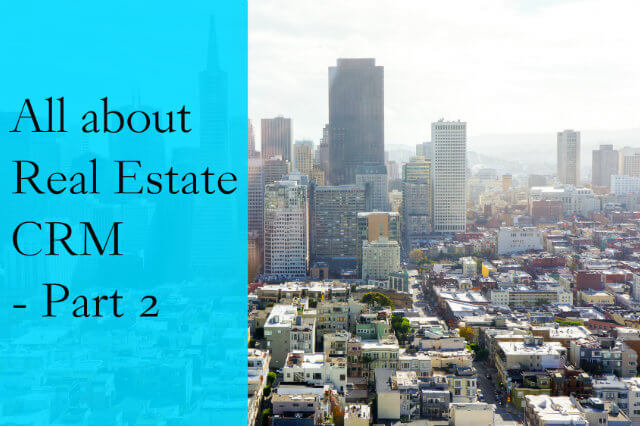 Purpose of this blog post on Real Estate CRM:
To give you complete information on Real Estate CRM.
Why should you read this?
If you want to:
– Increase your property sales
– Sell more & effectively
– Regulate sales follow-ups
– Know every aspect of your business
When should you read this?
– While assessing Real Estate crm vendors
– Wanting to scale your business
– Planning on automating sales processes
Real Estate CRM scenario in India, Australia, U.S.A, U.K, Africa, Hong Kong, Singapore, etc.
A lot of crowd is relocating internationally which is why there are a lot of Real Estate companies, builders and agents all over countires like Australia, U.S.A, UK, Hong Kong, etc. However, the secret to their highly organized business architecture is crm. Real Estate crms have served their purpose for business expanision and efficent sales throughout & is now being accepted in India. Indian business minds are surely realizing the capability of managing site visits, automating sales processes, selling and handling agents efficaciously.
This post is an attempt to give you an overall idea about Real Estate CRM.
We've curated 5 different posts to give you a 360 view of a Real Estate CRM.
 1. 6 reasons why buy a CRM for Real Estate
Pointers that can clarify your doubts about buying a Real Estate CRM.
2. 7 must dos before buying a Real Estate CRM
Some prepping that you need to do for crm success.
3. Real Estate CRM features & functionalities infographic
A quick look at the features a Real Estate CRM can provide.
4. Buying Real Estate CRM Software?
A checklist that can help you select a Real Estate CRM.
5. How to choose the right Real Estate CRM software?
Get complete guidance to help you in buying a crm for your Real Estate business.
6. Top 6 Features of Real Estate CRM
A quick gist of the capabilities of a Real Estate CRM.
7. CRM for Real Estate Industry
A summary of Real Estate businesses and their challenges and preferences for using a Real Estate CRM.
Conclusion
We hope this piece of information has helped make you a more aware CRM buyer.
Try a demo here for a better idea or browse our blog category on Real CRM.
Resources: