Financial Services CRM gives effective sales target management!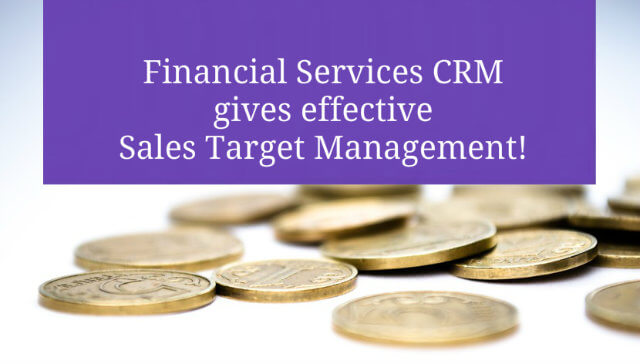 Sales Targets, Financial businesses & CRM:
Last few years have marked important milestones in the world of FinTech i.e integration of technology in business activities. Financial analysts recommend  IT integration since it speeds up the client acquisition process. Monitoring and allocating sales targets has become a hassle free task since real time reports can be generated.
The Sales Target module in Financial services CRM allows Financial institutions to monitor sales performance. It auto generates sales performance reports which help to spot on divergences if any. The sales target module gives a summary of all targets achieved and balance.
Sales Target Module
This module helps you:
– Freeze, track and observe sales targets for your organization and sales team members respectively.
– Scan your revenue progress.
– Monitor & administer the sales performance of your organization, agents and sales people.
4 Things You Can Do In Sales Target Module
1. You can set sales targets revenue-wise for any time window by filling in the current form fields.
2. You can set sales person wise targets for any tenure.
3. You can see the targets achieved & pending with the exact number of days left for tenure completion.
4. You can rework & delete a respective sales target in the Revenue-wise Sales Target & Sales Person Wise Sales Target modules.
Also find these modules – CRM for Financial Services

– Leads Module
– Follow-up Modules (Calls, SMS, Emails & Meetings Module)
– Clients Module
– Users Module
– Contacts Module

Conclusion
Apart from monitoring sales targets, Financial services CRM envelops all the aspects of Sales cycle. See a demo here on Financial services CRM to get a closer view!
Resources on CRM for Financial Services: