Increase profits & efficiency for Banking business with a CRM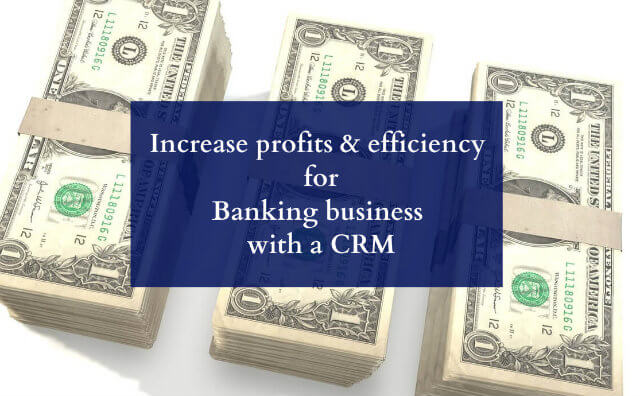 How CRM can increase profits & productivity Banking CRM a profit & efficiency booster for Banking business. Less chaos and more clarity can give a bright scope for growth and the same goes for businesses.
These pointers show you how a banking crm can lead your sales scenario towards increased productivity & profits.
1. Quick, convenient & reliable requirement gathering:
The first & crucial step if not apt can be very resource draining for your sales teams & inconvenient for your prospects. A crm can improve this process, save time and give you precise lead data.
Sales teams can service leads better once the customers' needs are understood and communicated across.
2. Keep customers in the loop, always:
Having customers updated at all times acts as a proactive branding and we all know happy customers bring in more prospects. A banking crm about relevant schemes, products, services, etc. can Marketing campaigns to keep customers always in the loop:, send sms reminders for payments, etc.
3. Set wiser sales targets- revenue-wise & sales person-wise:
Strategic sales target setting can get you launched in the right direction.
The benefits a crm can give are:
– Set even sales targets
– Monitor the progress & movement in real-time
– Create a positive trend of achieving more sales targets
This ensures your sales teams are driven to finish their targets.
4. More relevant & less redundant sales follow-ups:
Have a well co-ordinated sales staff to follow-up customer religiously.
Bank sales teams can accomplish more with a banking crm:
– Never miss a lead, set reminders & schedule follow-up calls, emails and meetings
– Save time by following-up from one common crm platform.
– Have more effective & less clumsy. Less layered
– Stay updated about the communication history
efficiently Exercise & accomplish effective follow-ups:
5. Unified data of clients & leads:
Data is an integral key to your client base and the enabler of all your activities.
A banking crm makes it primarily important to:
– have all your data clubbed in a reliable spot
– easily accessible in seconds.
– responsively provide updated client details
This can optimize your response time and accelerate deals as your sales people will always be ready to tackle client queries with the befitting answers.
6. Have sales teams organized, updated and equipped:
Half of the chaos and reworking makes your sales strategies take two steps back and cost you in turn!Solving the root of all these problems a banking crm gives your sales teams the upper hand of having their data hygienic, organized and sales tasks streamlined.
So you now have – more time, more tangible returns and more sales achievements
7. Get a scaled business view, clearer gap analysis & road map strategically:
A banking crm can give you a penetrating view of your business through its dashboard and  intuitive reports. So you can comb through what's working for your bank and what's not. You can:
– Get real-time reports on sales activities of each sales person
– Know every detail about the deals in the pipeline
– Forecast your sales for the near future
– Refine aspects of your sales cycle
– Spot the best & worst performers
If you're the kind who needs finer details on a banking crm solution, contact us. 🙂
8. Nail more deals, win more clients:
Your sales team can utilize client / lead details to understand the client's queries & respond with the apt solution client. Win more customers, save wasted time,
you're practically only left with most of 'doable' and 'achievable'.
Excited to get you sales figures up? Check out a Banking CRM.
Get more resourceful reads here: Banking CRM
Resources & sign-up: