8 CRM Techniques To Boost Automotive Business Sales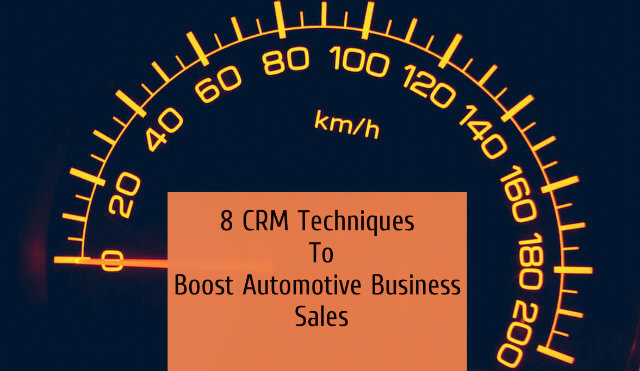 Ever seen a car that looked like a masterpiece, performed with the power of a thousand horses and gave you the highest fuel efficiency? No? Maybe because it never made the cut in sales! Isn't it simple, it's not just the vehicle but how your sales people pitch and sell it.
Your carriage is as fast as your slowest horse, here are some tips on how you can polish your sales force abilities & boost sales with an Automotive CRM:
1. Set & achieve sales targets:
Freeze sales targets of your benchmark sales to be achieved for the month, year, quarter or any desired tenure. This crucial business step can be done and achieved proficiently with an automotive crm. The crm generates real-time reports to cover a wide spectrum of details from:
– Sales target achieved
– Sales target achieved (sales person-wise)
– Sales target pending (revenue-wise)
– Sales targets pending ( sales person-wise)
2. Capture leads efficiently:
Initiate & Create smooth sales cycles by importing leads into the crm from sources & flawlessly collecting requirement details of each lead. Increase your probability of progressing leads to the next level / layer of sales with precise services right from the point the leads enquire for a vehicle with your enterprise.
3. Align & execute smooth sales follow-ups:
Incline sales follow-ups in your favour by having a better informed sales team. An automotive crm empowers your sales teams with scheduling & setting reminders for follow-ups (emails, calls, showroom visits, etc.). This directly reflects in your sales performance when your sales people effectively engage leads and maneuver deals nearer to closure.
4. Centrally store lead & follow-up details:
An automotive crm ensures you're not losing maintained client details in the long run. You can have a central storage of all (your existing and new) client & lead details right from their contact to purchase interests and communication history. This serves as an all time boost to your sales. You and your sales people can instantly update last follow-up details, add notes, share leads and access all this crucial data. You'll not only improve your sales follow-ups but also reduce the chances of deals going south due to faulty follow-ups.
5. Monitor sales peoples' chase for achieving sales targets:
If setting sales targets would've done the trick, everyone would've been swimming in treasures! An automotive crm makes the monitoring aspect of your business simple and accurate. It directly dispenses performance reports of your sales people and your organization for the month, quarter, half-year, year, etc.
You can easily know:
– Why are you winning / losing business?
– Are your organization's revenue targets being achieved?
– How well are your sales people achieving sales targets?
6. Forecast sales:
Being able to forecast your sales gives you a benefactor to know your business' potential growth and pivot accordingly. The automotive crm will give you forecasts on the basis of the deals you have in the pipeline. So you can allocate manpower accordingly to achieve desired sales targets.
7. Minutely observe your business moves:
The crm dashboard gives you quick access to all the sales activities in real-time. So you're assured that no detail misses your eye! You can observe performance patterns, buyer behaviours, which sales phase needs a push, when will you be converting more business, etc.
An automotive crm system lets you:
– Spot performers & laggers
– Identify loop holes in your sales and enhance your buyer's purchase experience:
– Know how you can win more deals
– Analyze buyer's purchase experience
– Know sales figures with solid reports
And do a lot more in lesser time!
You can reduce unproductive time, increase the outcome from follow-ups, sum-up the performance average and implement strategies to close more deals and do much more!
Want to know more on Automotive CRM solutions for your business, contact us!
For more on Automotive CRM, here's our blog category.
Resources & Sign Up: