Sales Target Management for Hotel Business
No report can excite your business mind like a crm! Why this statement? Here's why, reports can claim and quote forecasts for all the businesses involved in the hotel industry.
These may be helpful for an overview but as a business owner you'll want to know:
a. What's specifically in store for your hotel business?
b. How will you be setting your sales goals and targets this year?
c. Here's a simple yet robust method for setting your sales targets.
In addition to these you'll be able to track and have high intel on what's your organization and sales teams achievement!
This is just a glimpse of how a hotel crm can help you set, track and manage your sales targets. Read our booklet to know more.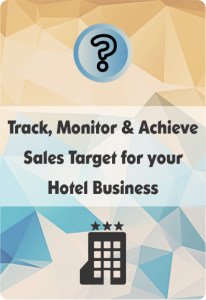 Resources on Hotel CRM Software:
1. Download Hotel CRM Buyer's Guide
2. Download Top Hotel CRM Features
3. Download Factsheet on Hotel CRM
3. Sign up to view Reports in CRM for Hotel Industry
4. Hosting, security, compatibility, integration and customization details of Hotel CRM 
5. Sign up for a Hotel CRM Demo
Do you want an obligation-free consultation on CRM for Hotel industry?
Contact our Hotel CRM Solution Architect via phone or email – Click here
Chat with our Hotel CRM Solution Architect (Mon-Fri, 10 am-5 pm IST) – Click here
Want to kick-start your sales boosting this new year? Strap-on for a free demo here!
Or stroll down our Hotel CRM "lobby" to know more about it. 🙂