Hotel businesses can convert more leads with CRM!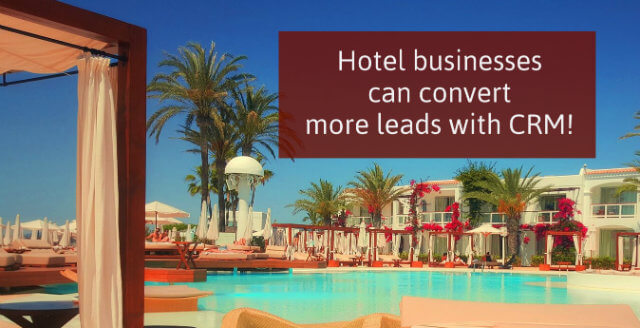 Leads generation, conversion in Hotel businesses & CRM:
Customer generation in the Hotel industry fundamentally depends on 2 things – 1) The personal touch 2) Regular follow ups.  Keeping the prospects informed about various upcoming discounts, packages, services, etc. increases the possibility of faster lead conversion. 

Considering globalization, medical tourism & the increased affordability for travel & leisure, the Hotel industry does have a scope of rapid growth till 2020. Hoteliers across the globe from Europe, Australia, Africa, U.S.A, etc. have adopted sales force automation with CRM solutions. In light of this successful trend, so are Indian Hotel businesses resorting to the same.
The Lead module in Hotel CRM covers both of the fundamental aspects explained above. It enables the user to categorize customers according to their lead status and stage. It also auto generates lead reports helping to make important business expansion decisions. 

Lead Module
This module lets you:
– Feed-in numerous leads.
– See the status of each lead follow-up and prioritize leads to close more deals quicker.
– Club and allot leads as per your choice.
– Anticipate your business growth with sales forecasts.
13 Things You Can Do In Leads Module:
1. You can fill-in the basic data of the lead as per current form fields given.
2. You can specify the origin of the lead & the type of booking / service the lead has enquired for.
3. You can allot lead enquiries manually or automatically.
4. You can categorize leads and add tags.
5. You can make leads high priority in the system and also add remarks.
6. You can straight away insert leads from your website into the CRM and auto allot lead enquiries to respective sales people in a systematic manner.
7. You can have custom made tags according to leads.
8. You can customize the stages and priorities in the CRM.
9. You can hand lead enquiries to sales people product / service wise.
10. You can see leads assigned to sales people product / service wise.
11. You can import leads via excel sheets by filling-in data as per the format mentioned.
12. You can get a visual of lead data imported from the excel sheet.
13. You can do the following in the the List leads module:
– View the communication history of each lead
– Edit the lead status
– Edit the lead stage
– View & edit the expected business
– View & edit the expected close date
– Share a lead with any other user
– Schedule meetings
– Send / Schedule emails
– Schedule follow-up calls & sms to leads
– Modify details of the lead
– Add contacts and remarks for a lead
– Attach documents
– Deactivate or Reactivate the lead
– Delete the lead
– Convert the lead to client
Conclusion:
Unleash complete lead management & upgrade your sales productivity here! Get started with a demo: Hotel CRM
You can read more posts on Hotel CRM for more information.
Also find these modules – Hotel CRM
– Sales target Module,
– Follow – Up (Calls, SMS, Emails & Meetings Module)
– Clients Module
– Users Module
– Contacts Module
Resources & Sign Up: