How to choose the right Automotive CRM Software?
We strive to collate information from the CRM domain expertise and industry knowledge that our team has gained over the years and share it with you, to help you make the right decision.
Having served 200+ clients (view our latest client list ) and providing CRM for several industries, our team has made a Buyers guide for Automotive CRM Software to help you evaluate and guide you in the process of buying and implementing a CRM Software.
A good Automotive CRM would enable one to track and monitor the performance of every respective showroom, sales team, sales person, vehicle model, etc. Sales performance reports give a qualitative analysis for revenue-wise and quantity-wise performance of each entity and all parameters involved in the sales scenario of the business.
Also, an Automotive CRM Software serves as a medium to enhance the customer service experience. Customer service is made hassle-free by using all the mediums for communication (calls, emails and sms) to provide reminders to customers, schedule showroom visits and maintain a record of all the details of the said methods of communication through a common platform provided by the CRM software. The benefits when simply stated , helps an automobile business convert more leads into customers, generate more business, enjoy improved numbers in revenue generation, get more return customers, have more productive sales teams and stronger strategies provided all the practices to generate the same are in the right manner.
Get your copy of Buyers Guide for Automotive CRM Software by clicking on the image below.
You would be directed to the section of our website from where you could download.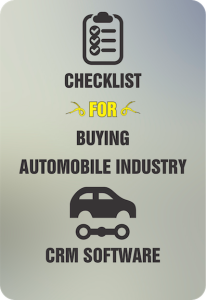 Who should download this ?
1. Top decision makers:
Automotive Showroom owners, CEOs, Entrepreneurs, Chair persons, Vice Presidents, Directors, etc.
2. Management positions:
Sales managers, Business heads, IT Purchase Officers, Project managers, all decision makers etc.
3. Sales teams.
Even if you are not either one of the above mentioned it's still a good read for you.
Resources on Automotive CRM:
1. Download Automotive CRM Buyer's Guide
2. Download Top 13 Features of Automotive CRM
3. Sign up to view Reports in Automotive CRM Software
4. Hosting, security, compatibility, integration and customization details of Automotive CRM
5. Sign up for an Automotive CRM Software Demo
Do you want an obligation-free consultation on CRM For Automotive Industry?
Contact our CRM Solution Architect via phone or email – Click here
Chat with our CRM Solution Architect (Mon-Fri, 10 am-5 pm IST) – Click here
To read more blog posts , click: Automotive CRM
We hope your clouds of doubt about buying a CRM have been cleared by this blog post. 🙂