Convert more leads with CRM for Real Estate Business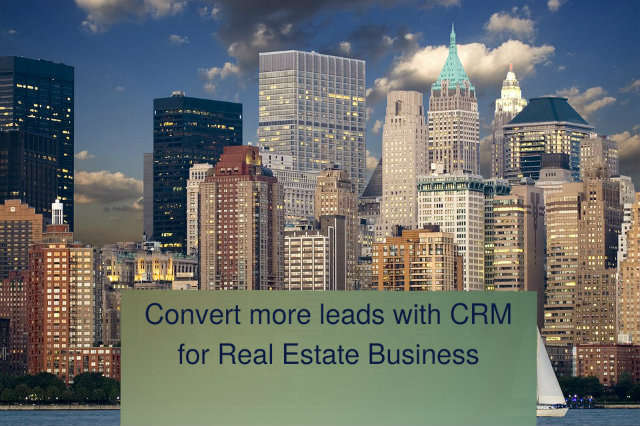 Real Estate Businesses, lead conversions & CRM:
Knowing how your Real Estate Business can be a market leader in this high competition industry could always draw your attention.
Conversions can be a far cry if the leads are not being effectively tracked & followed-up by sales people and agents.
To ensure that your lead data does not remain a pile of names, it is imperative to:
– Allocate leads
– Never miss follow-ups
– Track site visits, bookings and registrations
– Get insights into sales to make informed decisions
The features and powerful tools of a crm can serve as a means to improve your employee's lead management skills.
Because how fast and efficiently your sales teams convert leads would primarily determine the rate of your business growth.
This booklet on Real Estate CRM helps you know all the features!
Lead Module
This module lets you:
– Complete lead management.
– Add multiple leads.
– See the status of each lead follow-up and prioritize leads to close more deals quicker.
– Categorize and allocate leads as per your choice.
– Know the sales forecast of your business.
32 Things you can do in lead module:
1. You can feed-in the basic details of the lead enquiry as per current form fields given.
2. You can specify the source of the lead & details of the lead's property enquiry.
3. You can allocate leads manually or automatically.
4. You can classify leads and add tags.
5. You can prioritize leads and also add remarks.
6. You can add leads straight from your website into the Real Estate CRM system and auto allocate enquiries to respective sales people in a round-robin structure.
7. You can specify the expected visit date.
8. You can have customized tags according to leads.
9. You can have custom made stages and priorities.
10. You can allot leads to sales people flat-wise or project-wise.
11. You can view leads allocated to sales people & agents project wise or flat wise.
12. You can know the visits postponed by the lead.
13. You can import leads via excel sheets.
14. You can see the lead data imported through the excel sheets.
15. You can do the following in the list lead module:
– Edit the lead status
– Edit the lead stage
– View the communication history of each lead
– View & edit the expected business
– View & edit the expected close date
– Share a lead with any other user
– Create Quotation
– Schedule Visits
– Schedule Follow-up Calls
– Send / Schedule Emails
– Schedule SMS to leads
– Modify details of the lead
– Add contacts and remarks for a lead
– Add Remarks
– Attach Documents
– Deactivate or Reactivate the lead
– Delete the lead
– Convert the lead to Client
Conclusion:
Find more details about CRM for your Real Estate business here: Real Estate CRM
For more reads browse our Real Estate CRM blog category.
Also find these modules – Real Estate CRM
– Sales Target Module
– Follow-up Modules (Calls, SMS, Mass Emails & Meetings Module)
– Client Module
– User Module
– Contact Module