Retaining clients in Import Export Business with CRM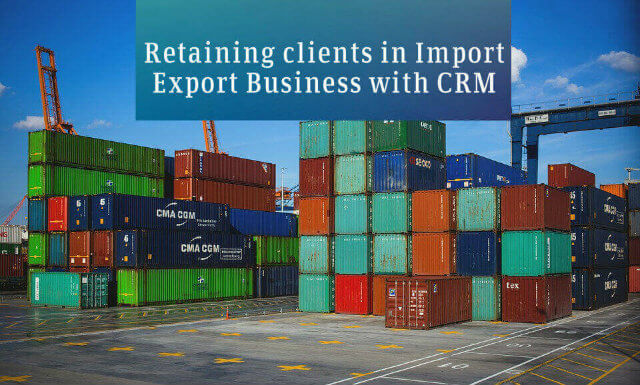 Client acquisition & retention,  Import Export Businesses & CRM:
Conducting business in the international markets is always a daunting challenge. But businesses find ways to sail through the seas and build loyal customers on every shore of the world! Communicating with wide base of customers develops the need to understand each of them and their business environments precisely. Only then it is possible to fulfill their needs and make profits.
The client module in Import Export CRM serves as a helping hand for this industry. It stores and organizes client data in such a way that it helps to deduce important sales stats. It allows to send payment reminders via sms & email notifications. The result is, a closer view of their needs & purchase details which helps sales representatives to function smoothly.
Client Module
This module lets you:
– Maintain a database of all clients & their contacts.
– You can add contact details of clients.
– Assign, categorize, and communicate seamlessly with your clients.
– Store basic details of products & services your clients have taken from you.
– Save important dates regarding products and services purchased.
21 Things you can do in client module:
1. You can add contact details of clients & attach documents if needed.
2. You can categorize, assign & share clients with other users in the CRM.
3. You can pull data of the converted leads.
4. You can view contact details of all clients.
5. You can do the following by using the action button of the list client module:
– Edit the Client Status
– Edit the Client Category
– View Communication History
– Create Quotation
– Add Product / Service
– Add Payment Reminder
– Schedule Meetings
– Schedule Calls
– Schedule Emails
– Schedule SMS
– Modify Details of a Client
– Add Contacts to a Client
– Add Remarks for a Client
– Attach Documents
– Deactivate / Reactivate a Client
– Delete a Client
Conclusion:
The Import Export CRM has much to offer than a client module.
You can get a gist of all the features of Import Export CRM in a demo here!
Also find these modules – Import Export CRM
– Sales Target Module
– Lead Module 
– Follow-Up Module (Calls, SMS, Mass Emails & Meetings Module) 
– User Module
– Contact Module
Resources on Import Export CRM: