How to evaluate a Healthcare CRM Software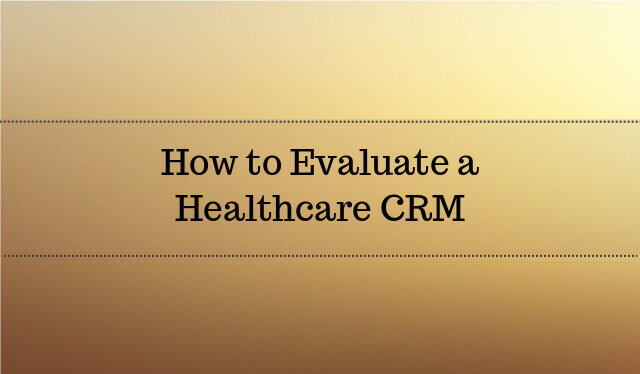 If you are looking to buy a Healthcare CRM software for your Healthcare organization, these are some pointers to help you:
11 Questions to ask while evaluating a Healthcare CRM:
1. Does the CRM comprise features that satisfy your needs?
2. Does the Healthcare CRM incline with your business cycle?
3. Will the Healthcare CRM enable you to measure crucial business parameters? Like sales, incoming inquiries, bounced leads, won deals, lost deals, etc.
4. Does the Healthcare CRM have the ability to scale in terms of users and technology for the next 5 years?
5. Does the Healthcare CRM have measures to keep your sensitive data secure?
6. Is the Healthcare CRM simple to understand and easy to use? Does it have a simple interface which is easy to browse?
7. Can you and your team use the CRM on the go?
8. Can the Healthcare CRM be customized to suit your needs?
9. What would be the annual cost of the Healthcare CRM?
10. Would the Healthcare CRM be compatible in integrating with the current software products you use?
11. Would your sales people be able to perform multiple sales activities like follow ups & patient / client interactions?
9 Questions to ask while evaluating a CRM vendor:
1. How well does the vendor understand your Healthcare business and sales cycle?
2. Is the vendor able to cure your business concerns?
3. Does the vendor give you a guided demo? What is your feed back after the demo? How is the first hand buying experience?
4. What are the CRM provider's market credentials?
5. How is the after sales support? Does the vendor provide online or phone support?
6. What is the support response time?
7. What would be the duration needed to implement the CRM?
8. Would the Healthcare CRM vendor provide payment options?
9. Would the CRM vendor provide your employees with training and the necessary documentation to understand the CRM?
Conclusion:
Check out a Healthcare CRM for more details about CRM for your Healthcare Business.
See our Healthcare CRM blogs for more resourceful reads.
Do you want an obligation-free consultation on Healthcare CRM?
Contact our CRM Solution Architect via phone or email – Click here
Chat with our CRM Solution Architect (Mon-Fri, 10 am-5 pm IST) – Click here