How to set, monitor & achieve sales targets for BPO business?
The BPO culture has been constantly rising but Why hasn't the BPO industry peaked? Despite the fact that the BPO industry is a budding one in the Asia – Pacific it hasn't peaked its potential. This instance helps you understand the why? The Indian market is a jungle of many industries like the Banking and Financial services, communications, technology, retail, and travel & transportation that it serves. One thing you need to know is that no BPO company dominating the Indian market that caters to every vertical.
Wouldn't it be great if you could be the George of this jungle! Don't start swinging already, you'll need some really strong gear on your challenging. A CRM is that gear which helps you get past your business hurdles. Want to know what hurdles we're talking about? See our booklet.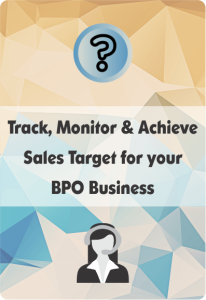 Resources on BPO CRM Software:
1. Download BPO CRM Software Buyer's Guide
2. Download Top Features for BPO CRM Software
3. Sign up to view Reports in BPO CRM
4. Hosting, security, compatibility, integration and customization details of BPO CRM
5. Sign up for a BPO CRM Demo
Do you want an obligation-free consultation on BPO CRM?
Contact our BPO CRM Solution Architect via phone or email – Click here
Chat with our BPO CRM Solution Architect (Mon-Fri, 10 am-5 pm IST) – Click here
Read some useful BPO CRM posts on this blog.