Lead Management For Insurance Business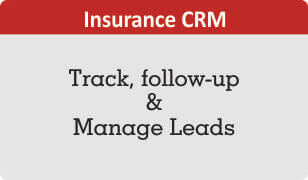 Do you face problems in managing leads and tracking sales follow-ups? 
If yes, knowing these would be your critical concerns:
– Which are the lead sources?
– Which lead source is getting more conversions?
– Which sales person / Insurance agent is converting more leads?
– Which sales person is not following-up leads appropriately?
– Are all prospective clients being followed-up regularly?
How can an Insurance CRM help you solve this problem?
-The 'Lead Module' lets you add contact and have a smarter, more precise requirement gathering process for leads
– Assign leads manually or automatically to sales people / agents
– Monitor sales follow-ups of every sales person / insurance agent
– Get real time reports to know the follow-up and conversion reports daily, monthly, quarterly, half-yearly, yearly, etc.
– Let your sales team set reminders and follow-up precisely using an equipped console of tools.
Resources for Insurance CRM:
1. Download CRM Buyer's Guide for Insurance Industry
2. Download Top Features of Insurance CRM Software
3. Download Checklist For Buying Insurance CRM Software
4. Download Infographic on Features & Functionalities of Insurance CRM
5. Sign up to view Reports in Insurance CRM Software
6. Hosting, security, compatibility, integration and customization details of CRM 
Do you want an obligation-free consultation on CRM?
Contact our CRM Solution Architect via phone or email – Click here
Chat with our CRM Solution Architect (Mon-Fri, 10 am-5 pm IST) – Click here
Get more reads on Insurance CRM on our blog.