Sales Target Management For Education Business
The education sector in India is constantly evolving year by year to become one of the largest markets internationally. With the adaptation of modern learning techniques like online learning and a majority of young population India will be mass producer of learned professionals. With credits to these mentioned factors, The future of the education industry holds great potential.
Do you want your education business stand out? This year seems great to actively adopt methods to do so as most of the market indicators hint positive trends. The first step would be setting targets. Here's a booklet that can help you understand how a CRM can help you set, track and achieve sales targets.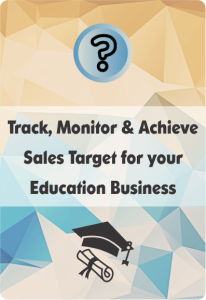 Resources on CRM Software for Education Industry:
1. Download Buyer's Guide for Education CRM Software 
2. Download Top Features for Education CRM Software
3. Education CRM Features and Functionalities Infographic
4. Sign up to view Reports in Education CRM 
5. Hosting, security, compatibility, integration and customization details of Education CRM 
6. Sign up for an Education CRM Demo
Do you want an obligation-free consultation on CRM for Education Industry?
Contact our Education CRM Solution Architect via phone or email – Click here
Chat with our Education CRM Solution Architect (Mon-Fri, 10 am-5 pm IST) – Click here
Want to see more ways you can benefit from an education CRM? Click here.
If you wish to read more on education CRM, head here on our blog: Education CRM