Which business is Education CRM useful for?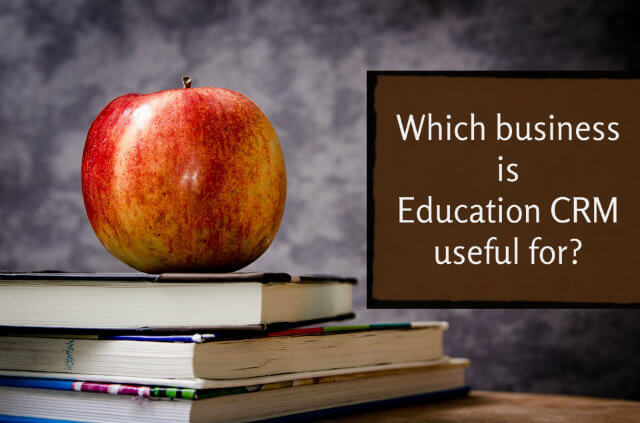 Scenario of the Education industry – 2017:
With the highest number of universities and higher education institutes, the Indian education system is one of the largest in the world.
Considering this fact and the increased budgeting towards the education sector, these are some universal trends that the education industry can expect:
– Schooling and higher secondary education can cross the approximate 110 billion dollar mark by 2020
– Educational institutes, business schools, management education institutes and tuition providers ensure a high quality supply for the teaching and management faculty
– Increased investment in educational technologies
– Expansive use of email marketing to improve the student engagement
– Asia is being looked at as a major participant for contributing towards management business models
Businesses will focus on the perfect concoction of academia and business.
All these hint towards active use of technologies for educational and business purposes. One of the reasons Education CRM usage can be credited to the improving growth and quality requirements.
Below is a list of all the businesses and institutes in the Education industry that our CRM is applicable for.
1. Business Schools
2. Coaching Classes for Vocational Training
3. Colleges
4. Educational Support Services
5. International Schools
6. Junior Colleges
7. Management Institutes
8. Overseas Education Consultants
9. Private Educational Institutes
10. Professional Higher Education
11. Professional Schools
12. Technical & Trade Schools
13. Technical Schools
14. Universities
15. Vocational Schools
16. Vocational University
In case your business / institution type is not listed below, please contact our Solution Architect to know if our CRM can address your business needs.
Conclusion:
In case you want to get a first hand experience of an Education CRM software, click here.
Love to read more? Our blog has plenty of posts at your disposal. 🙂
Do you want an obligation-free consultation on  CRM Software?
Contact our CRM Solution Architect via phone or email – Click here
Chat with our CRM Solution Architect (Mon-Fri, 10 am-5 pm IST) – Click here